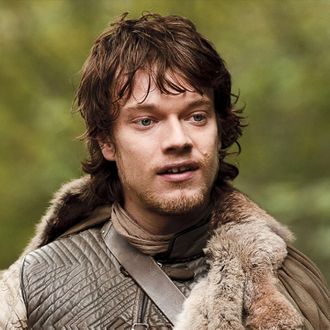 A belated (natch) Christmas gift from Game of Thrones author George R.R. Martin has arrived: a sneak peek at the next soon-to-be-long-awaited installment in his "Song of Ice and Fire" series, The Winds of Winter.
Martin is known for his willingness to keep fans at a nearly insane fever pitch while they wait to find out what happens to his ever-lengthening list of characters. He told Vulture this fall that he has about 100 pages of the new book done, and that he'll begin adding to the total in January. On his blog, he has promised another sample chapter in July with the publication of A Dance With Dragons  in paperback.
The books are notorious for their grim and bloody plotlines, and the new excerpt shows no signs of letting up. If you're not caught up with the books, stop reading here.
The Winds of Winter excerpt picks up with one of the most unexpectedly compelling characters in A Dance With Dragons: Theon Greyjoy, who has escaped the clutches of Ramsay Bolton only to be hung by his arms in a dungeon by Stannis Baratheon. What do we find out? 
The chess pieces are moved around the board: Justin Massey to Braavos, where he will raise an army of sellswords with borrowed gold; Fake Arya to Jon at the Wall (where his fate remains unknown after getting fracked by his Brothers). Stannis, still unbearably self-righteous but also an undeniable badass, dispatches the treacherous Karstarks and awaits the battle against the Boltons, the Freys, and the (secretly pro-Stark) Manderlys that we thought was coming in the last book but never did.
Asha, still a captive, makes a plea for Theon's life. And when that fails, she begs for him a clean death "across the lake to the islet where the weirwood grows." The ravens — can only Theon hear them? — begin speaking his name and speaking of "the tree." What's going to happen on that islet? One thing is clear, with apologies to Twin Peaks: The ravens are not what they seem.
What did I miss? Please leave your interpretations and conspiracy theories below.
Related: George R.R. Martin on His Favorite Game of Thrones Actors, and the Butterfly Effect of TV Adaptations