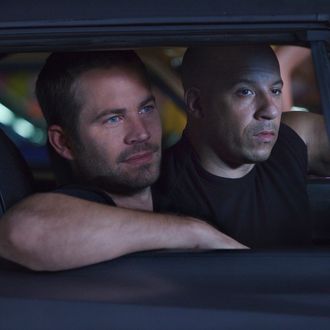 Photo: Jaimie Trueblood/2011 Universal Studios
It's tough to know how to feel about the year's ten most-pirated films being easily tracked and trumpeted across the web. Is it a list of awards (the Downloadies?) or a litany of pity? Either way, a report over at TorrentFreak gives the dubious bragging rights/sorrows to Fast Five (9.3 million illegal downloads), The Hangover Part II (8.8 million illegal downloads), and Thor (8.3 million illegal downloads).
That the most-stolen films were hugely successful at the box office — the top three all have sequels in the works, and possibly two at once for the Fast series — is a fine explanation for their piracy prevalence. But there are strange goings-on with the list, like world-dominating Harry Potter and the Deathly Hallows Part 2 ranking tenth, and the new Transformers and Twilight installments — the year's second- and third-biggest box-office hits, respectively — nowhere to be found.
Also weird: Source Code and I Am Number Four claim the fourth and fifth spots. The L.A. Times susses this out by noting both films "did little business at the box office but were particularly popular among tech-savvy young males."
There's a tentative cause for anti-piracy celebration in Fast Five being snatched far less times than 2010's most-downloaded movie, Avatar, which 16.6 million torrent-users enjoyed free of charge. Whether the dip denotes a wholesale decline in downloading — as Louis C.K.'s immensely profitable, oh-so-piratable new comedy special may suggest — or just, as a TorrentFreak commenter says, a "poor year in movies," is for smarter, number-crunchier minds than us to decide.