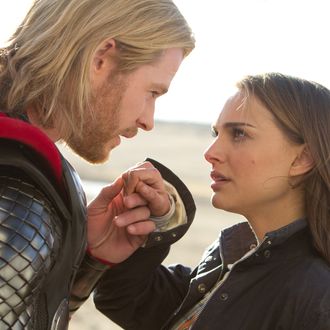 Chris Hemsworth and Natalie Portman in Thor
Photo: Zade Rosenthal/Marvel Studios/? 2011 MVLFFLLC. TM & ? 2011 Marvel. All Rights Reserved.
It isn't clear why Patty Jenkins was fired from Thor 2 (or if she was even fired), but it's become apparent that Marvel Studios' decision to let the director go wasn't exactly thought through.  One of the reasons that Natalie Portman ostensibly agreed to put off full-time parenting and do the Thor sequel was Jenkins' involvement — the Monster director would've been the first woman to helm a major superhero franchise film — and now that Marvel has pushed Jenkins out, Portman is understandably upset (but contractually obliged to stay).  Marvel, who seem to operate under the assumption that their superheroes are the real draw and everyone else involved can suck it, probably don't care, but they might have to drop the Tony Stark-style arrogance as the Jenkins fallout continues.