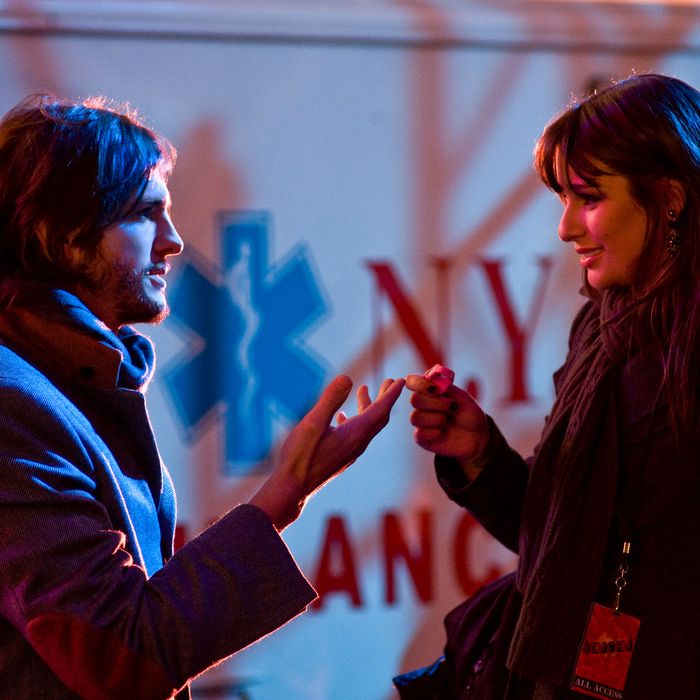 Photo: Andrew Schwartz/? 2011 New Line Productions, Inc. All rights reserved.
Given the unenthusiastic response to Valentine's Day, it is perhaps not surprising that critics are not exactly in love with Garry Marshall's follow-up ensemble movie, New Year's Eve. The reviews so far are (way) harsh, but as always, they are beside the point. The Rom-Com Enthusiast is far more interested in how the movie meets the genre's very exacting specifications — the meet-cutes, the montages, the dramatic declaration of love in some unexpected location, the tears and the awws and the heartstrings tugged just so. So Vulture made a handy checklist to evaluate how New Year's Eve satisfies your very precise rom-com needs, and where it fits on the rom-com continuum.
Credentials
Valentine's Day mastermind director Garry Marshall (who also brought you Pretty Woman); Katherine Heigl (27 Dresses, The Ugly Truth, Killers, Life As We Know It); Ashton Kutcher (No Strings Attached, Killers, Valentine's Day); Sarah Jessica Parker (The Family Stone, Failure to Launch, and, of course, the ultimate rom-com inside a sex-com, Sex in the City); Michelle Pfeiffer (One Fine Day, Married to the Mob); Josh Duhamel (When in Rome, Life As We Know It, Win a Date With Tad Hamilton!)
Rom-com Subgenre
The Kitchen Sink Ensemble Sequel, featuring new and exciting heterosexual relationships like the Couple Relying on Serendipity or the Business Arrangement that Blossoms Into More (plus a smattering of parent-kid plotlines).
Barrier … to Love
She's the woman of his dreams … but he doesn't know her name.
He wants to kiss at midnight … but she has to stay home with her mom.
He hates New Year's … and she's going to the biggest party of the year.
She is older and timid … he is younger and bro-y.
He wants her back … but she understandably doesn't trust him after their broken engagement.
Welcome Cliches
Man takes woman on joyous, Vespa-powered date montage around New York City
Random but supportive strangers help luckless male in pursuit of romantic goal (in an RV, no less)
Teen boy and girl confront each other in lunchroom with respective cliques behind them.
Dad-to-be has major difficulty getting his pregnant wife to the hospital.
Unwelcome Cliches
Relative strangers share one kiss, then agree to leave their relationship to fate.
Kooky female sidekick ineffectively throws herself at every dude on the screen.
Skeptical guy and girl play the "let me guess your life history" game, with correct answers.
Women are employed in five of the eight allowable Rom-Com Careers (medicine, fashion, food services, event planning, and music assistant, which we'll count under creative services)
Personal Discovery During Important Public Speech
• by Hilary Swank, during a press conference in which she encourages everyone to use the broken NYE ball as a time for reflection/catching up with loved ones
• by Josh Duhamel, at the family company's big New Year's Eve bash, when he encourages the crowd to make their dreams come true/catch up with loved ones
Personal Discovery During Important Public Musical Performance
• by Bon Jovi, at the giant New Year's Eve bash, when he sings about love
• by Lea Michele, in Times Square, when she sings about love
Romantic-Crescendo Locations
Elevator
Hospital rooftop
Times Square during New Year's Eve
Horse-drawn carriage
Webcam
Romance/Comedy Ratio
30/70
Tears Jerked
.5, all related to Ludacris's adorable family
Place on Rom-Com Quality Continuum
We will say this for New Year's Eve — we did not accurately predict every connection between the cast members. Garry Marshall has upped his surprise game considerably since Valentine's Day; unfortunately, the rom and com quality remains pretty much the same. Since this is a sequel without any major improvements (unless you consider Josh Duhamel ordering a "Disaronno and cranberry" as an improvement), we're putting New Year's Eve behind Valentine's Day, down around the Fool's Gold territory.