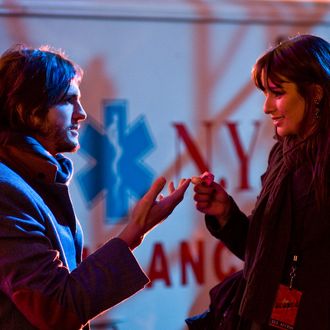 (L-r) ASHTON KUTCHER as Randy and LEA MICHELE as Elise in New Line Cinema's romantic comedy "NEW YEAR'S EVE," a Warner Bros. Pictures release.Photo by Andrew Schwartz
Photo: Andrew Schwartz/? 2011 New Line Productions, Inc. All rights reserved.
Celebrity actor menagerie New Year's Eve opened in what is proving to be the lowest grossing weekend in three years. Its total take of just under $14 million is about $6 million below studio Warner Bros.' expectations, reports Deadline. Those are some pretty bad numbers for the season's only (trying too hard) rom-com, which even earned itself a spoof on last night's Saturday Night Live.