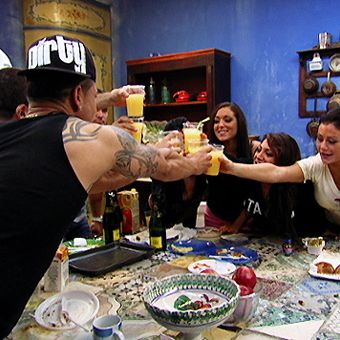 New Year's Eve may be for partying, but New Year's Day is for recuperative couch time. Television gives us marathons galore for precisely this reason, encouraging people to hunker down for all-day laziness, with back-to-back episodes stretching late into the night. But some shows go better with the lingering effects of massive overindulgence, and others only go with a sharp mind and sound body. Let Vulture break it down for you: Based on how hung-over you are, what should you watch on Sunday?
My hair hurts, I think I've developed an allergy to sunlight, and I'm never drinking again.
Degrassi: The Next Generation, TeenNick, 6 a.m. to 4 p.m. Engaging enough to stay conscious for, simple enough that dozing isn't going to throw you off.
Star Wars: A New Hope, The Empire Strikes Back, Return of the Jedi, Spike, 9 a.m. to 6 p.m., and again from 6 p.m. to midnight. Star Wars with commercials is its own kind of fresh hell, but sometimes you just need the warm embrace of the Rebellion.
One Life to Live, SoapNet, 10 a.m. to midnight. Soap operas are genetically engineered to take your mind off your troubles, be they physical ills or emotional regrets.
The Game, BET, 11 a.m. to 11 p.m. A solid day of comfort food in sitcom form.
Storage Wars, A&E, noon to 4 a.m. Every episode is exactly the same, and there's zero reason to feel invested in anyone on the show.
My Neighbor's Secret, My Daughter's Secret, My Nanny's Secret, My Mother's Secret, My Family's Secret, Lifetime Movie Network, 2 p.m. to midnight. This is exactly what you want and you know it.
Kourtney and Kim Take New York, 6 p.m. to 11 p.m. Only worth it for the frequent appearances of Mason Disick, the Kardashian clan's best member.
The IT Crowd, Neflix streaming. British nerd comedies cure everything.
I'm not going to barf, but I don't want to leave this precious couch.

The Twilight Zone, Syfy, 9 a.m. on New Year's Eve to 5:30 a.m. Monday. Be careful what you wish for: Two solid days of Rod Serling might permanently fuse you to your sofa.
Law & Order, TNT, 4 a.m. to 2 p.m.. The classics.
Law & Order: Special Victims Unit, USA, 6 a.m. to 4 a.m. If this isn't enough Benson and Stabler to get you through the day, nothing will be.
House, Oxygen, 8 a.m. to 2 a.m. These episodes are not in chronological order, which barely matters but is worth noting in case you accidentally re-invest in the House/Cameron/Chase love triangle from long ago.
The Lying Game, ABC Family, 9 a.m. to 7 p.m. It's no Pretty Little Liars, but this teen twins-trade-places mystery has its joys.
Samantha Who?, TV Guide Network, 11 a.m. to 5 p.m. Congratulations, you have now seen every episode of this Christina Applegate comedy.
Crossfit Games, EPSN2, 1 p.m. to 7 p.m. Competitive exercising! Watching it is almost as effective as doing it.
Lethal Weapon 1, 2,and 3, Encore, 2:15 p.m. to 2 a.m. Still good action, later Mel Gibson downfall aside.
Once Upon a Time, 4 p.m. to 6 p.m., 7 p.m. to 11 p.m., ABC. Innocuous, but strangely fun if you're willing to turn off the critical/analytical parts of your brain for a few hours.
Portlandia, IFC, 4:45 p.m. to 7:45 p.m. The first season is only six episodes, and here they are, back to back.
Summer Heights High, HBO 2, 6 p.m. to 10 p.m. You keep hearing good things about this unusual Australian comedy. Now's your chance to get in the know right before it leads directly into Chris Lilley's new show, Angry Boys.
Pawn Stars, History Channel, 7 p.m. to 4 a.m. The best of its ilk, plus it contains lessons on bargaining skills.
Bones, Netflix streaming. It's a little too gross if you're really feeling sick, but it goes perfectly with a case of the blahs.
Why am I the only one who feels okay right now? I feel good enough to really watch something!
Psych, Cloo, 6 a.m. to 6 a.m. So much adorable banter! Or, as the grouchy person clutching a Gatorade would describe it, ugh, so much adorable banter.
Treme, HBO Signature, 9:30 a.m. to 9 p.m. The second season in its entirety. Hope you like slow burns.
Shameless, Showtime, noon to midnight. There are worse ways to ring in the New Year than with a scruffy William H. Macy.
Damages, Netflix streaming. The first season's still the best, but the second and third perk up when consumed in a binge format.
I am in peak physical condition and I wish to punish/humiliate those around me who are not.
Jersey Shore, MTV, 1:05 a.m. to 8 p.m. Screaming and drinking were fun last night, but now it's agony to watch others partake.
Absolutely Fabulous, BBC America, 7:20 a.m. to 6 a.m. Screaming and drinking were fun last night, but now it's agony to watch others partake.
Cops, G4, 9 a.m. to 4:30 a.m. More screaming.
The Real Housewives of Atlanta, Bravo, noon to 10 p.m. More screaming.
My Fair Wedding With David Tutera, We, 2 p.m. to 5 a.m. More screaming.
Losing It With Jillian, Discovery Fit and Health, 8 p.m. to 2 a.m. More screaming.
iCarly, Netflix streaming. Almost 100 percent pure screaming.