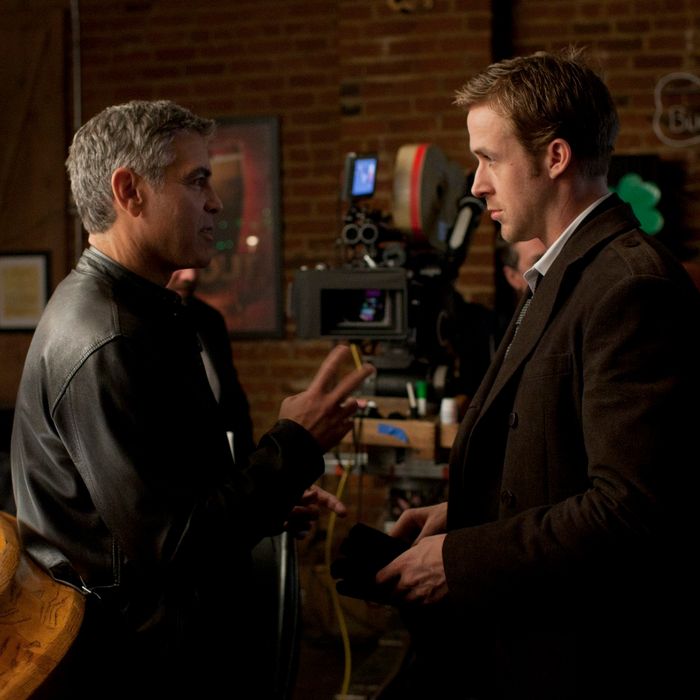 Photo: Saeed Adyani – ? 2011 IDES FILM HOLDINGS, LLC./SONY PICTURES
The Golden Globe nominations were just announced, and it's time to see what they mean. The Oscar front-runners remain the front-runners — The Artist had six nominations, The Descendants and The Help had five — though Ides of March had an unexpectedly good morning. Not so much for Extremely Loud and Incredibly Close or War Horse. On the TV side, the Globes went new, fêting Boss and American Horror Story but somehow forgetting to include Breaking Bad. Let's dive into all of this — as well as the Globes' love of older, campy women — with nine observations about this morning's nominations. 
Let's talk snubs. The awards chances of Extremely Loud and Incredibly Close continue to look incredibly bleak, with the Stephen Daldry film getting nary a nod. War Horse is not looking that much better: Yes, it got a Best Drama nod, but it seems wedged in there and Spielberg was bumped out of the Best Director category by George Clooney. (The Globes do love their movie stars; Angelina Jolie's directorial debut In the Land of Blood and Honey got a best foreign language film nod.) The most head-scratching snub, however, was of Bridesmaids' Melissa McCarthy, who seemed to be a lock but was pushed out in favor of Albert Nobbs' Janet McTeer. At least McCarthy's co-star Kristen Wiig finally got the nomination she deserves. (We'll get to the Breaking Bad oversight when we talk TV.)
How does this compare to the SAG nominations? Yesterday we read the SAG tea leaves. The Globes confirm some of SAG's tendencies, and not others. Tilda Swinton, who was nominated by both SAG and the Globes, does seem to be firming up her Best Actress position, and Albert Nobbs' actors continue to gain steam. But in a reversal, the Globes dissed Warrior's Nick Nolte and J. Edgar's Armie Hammer and smiled on Drive's Albert Brooks, Shame's Michael Fassbender, The Descendant's Shailene Woodley, and Girl with the Dragon Tattoo's Rooney Mara. SAG still has the much more important voting body — actors make up the majority of the Academy — but this indicates there's still a bit of jockeying to be done, especially in the supporting actor races.
Hello, Ides of March: The Globes was very kind to Ides of March, which got four nominations but has been largely ignored until now. This should help it, but not hugely: The multiple nominations really mostly ensure George and Ryan will be all over the telecast.
The Golden Globes Loves Handsome Men. The Best Actor race this year is handsome central — George, Brad, Leo, Ryan, etc. — but because the Globes has double the acting categories, there's even more handsome: Gosling got nominated twice, once for Ides and once for Crazy, Stupid, Love, and he's joined by Joseph Gordon-Levitt (the Globes liked his 50/50), Midnight in Paris' Owen Wilson, and Fassbender.
The Golden Globes Loves Older Campy Women. Madeleine Stowe and Jessica Lange got nominated for their parts on Revenge and American Horror Story, respectively. May the Globes let them take the stage to have a scenery chew-off. (Ideally, the also nominated Maggie Smith would make a late entrance and best them both.)
When It Comes to TV, the Globes Went New … The SAG awards yesterday were very staid about their TV, but the Globes skewed fresh: First-year drama Homeland was nominated alongside newbies Boss, Game of Thrones, and American Horror Story (as well as Boardwalk Empire). And Homeland's Claire Danes and Damian Lewis, Boss' Kelsey Grammer, The Borgias' Jeremy Irons, New Girl's Zooey Deschanel, and Enlightened's Laura Dern all got acting nominations for their new series. The Globes also did a real solid for Dern's very underwatched show, which is up for Best Comedy.
But It Forgot the Best Show of the Year. Where is Breaking Bad? And while we're at it, where is Parks and Recreation? (And are voters actually watching Glee, or just remembering season one?)
The Globes and the Emmys have opposite taste in Modern Family. Of all the Modern Family ensemble cast, the Globes tapped Eric Stonestreet and Sofia Vergara for nominations, skipping over recent Emmy winners Julie Bowen and Ty Burrell.
The Random Honorary Piper Perabo Nomination Goes to … Last year, Piper Perabo was randomly nominated for a Golden Globe for USA's Covert Affairs. This year, Callie Thorne, of USA's Necessary Roughness, got the nod. Okay! Gabrielle Anwar's agent needs to stop sleeping on this.