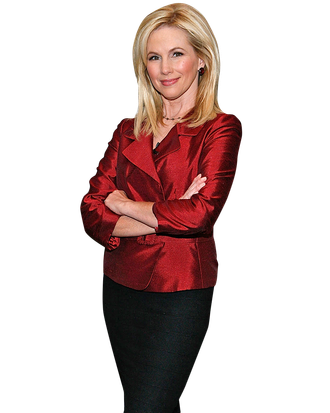 Suzanne Sena.
Photo: John Lamparski/WireImage
We knew from the start of IFC's Onion News Network that we were going to love to love its ruthless takedown of cable anchors, thanks solely to the spot-on performance of Suzanne Sena as icy newswoman Brooke Alvarez. (Sample parting line to an on-the-scene correspondent: "Thank you, Jane. You know, I have some suits I'm not using anymore, if you want them.") Now wrapping its second season (the finale airs tomorrow), the series takes fake cable news to a newly brutal level, featuring such recurring gags as an autistic on-the-scene reporter who really tells it like it is and a literally comatose GOP front-runner. Sena knows of what she skewers: She honed her TelePrompTer skills as a real-life anchor and reporter at Fox News, E!, and Extra. (She was also a finalist the last time Live! With Regis and Kelly was looking for a new co-host, that time to fill the seat left by Kathie Lee Gifford.) "People were surprised to see me doing fake news," Sena says. "But I actually think of it as real news in an alternate reality."
How do you reconcile going from super-conservative Fox to the Onion, of all places?
I came from Los Angeles, which is definitely a liberal place. Frankly, I didn't enjoy watching Fox News prior to being on it, because it felt like people were always yelling and bickering. But when I got the job offer, I talked to a lot of my liberal L.A. friends about it. The common reaction was, "Go on in there! We need one of us in there!" Fox made it very clear that you didn't have to be Republican to work there. Now, at the Onion, they bash each party equally.
Do you think a "normal" actress could've played Brooke Alvarez, or is being a cable anchor too specialized a skill?
I do feel that I'm very fortunate in that this particular role requires a mix of abilities you don't find in most actresses. There is some TelePrompTer involved. If you just have a news anchor doing it, you're not adding a character. And most actors don't have that news-anchor thing down. I had to say "Ahmadinejad" a few thousand times at Fox, and that sort of thing is a particular skill.
Can you ever go back to journalism, or even earnest TV hosting, after this?
I consider myself more an actress. I don't have a desire to go back. I don't have an interest in it. I left Fox with a very deliberate decision to not stay in the industry. I had been in it for five years, but I did not feel happy. Some people get adrenaline out of the whole thing, but I'm the kind of person who gets depressed reporting on terrible tragedies. It was hard to leave because it was financially stable, but I wasn't living my authentic self. I moved back to L.A. and decided that I didn't want to let my contracts dictate my life. If I had been on contract with Fox, I couldn't have done it. I left at the end of 2008 and within five months I was contracted to read for the Onion. I think we had sort of an instant mutual crush on each other.
Whom are you channeling most as Brooke Alvarez?
I think Brooke is a combination of people. When I first auditioned, I read this "In My Sights" segment where Brooke took apart this poor woman with a handicapped son, and I was giving it my best Bill O'Reilly. I'd say she's mostly a combination of Megyn Kelly and Bill O'Reilly.
What's your favorite episode?
The episode with poor Brooke's breakdown [after a documentary revealed her traumatic past as a Russian child cosmonaut] was extremely fun for me to play. And anything that includes O'Grady Shaw [ONN's answer to Anderson Cooper, and Brooke's rival].
The show has an endless series of different young male actors playing "Tucker Hope," the guy who does the touch-screen news reports. Do you have a favorite Tucker Hope?
Brooke was fond of the Asian Tucker Hope because he stayed after and gave her foot massages.
You were also a runner-up for Kelly Ripa's job. Any regrets?
The $40 million paycheck I didn't receive. It was an absolute highlight of my career, but I've had many more highlights since then, and the Onion is definitely one of them. To me, it was having my hand on the brass ring and then losing it, but it taught me so much.
How does ONN compare with your other jobs?
It's the most fun I've ever had and it's the most work I've ever done. For me, it's opened doors to comedy. Now I've done my own stand-up comedy shows and I've been asked to guest on comedy shows. I'm going out for other television opportunities and looking at pilot season. We shoot in a very small time frame, so I have time for other projects. Though in a dream world, I would love to see us shooting on a continuing basis. I'd like to get more episodes.