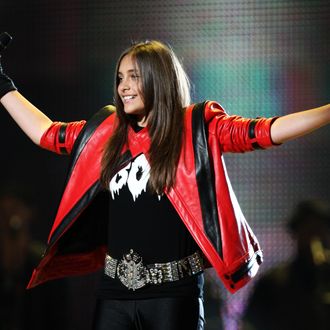 Photo: Dave J Hogan/2011 Getty Images
Michael Jackson's daughter Paris Jackson has been cast in a movie alongside Joey Fatone and Larry King. Lundon's Bridge and the Three Kings is about a 12-year-old girl and her family who become enmeshed in the war between the land and the furious creatures of the sea, and Paris will play Lundon, who on the movie's website is described as "human character." The movie is based on the book of the same name by Dennis H. Christen, whose previous work includes the 1975 book Rape? Not Me!! A Book on Self Preservation. Lundon, though, is about a dolphin who becomes a human being, a 450-year-old Aztec warrior who's turned into a giant squid thanks to a magic seahorse named Paco, and the BP oil spill.
Congratulations, Paris Jackson: You are by far the most normal part of this whole movie.