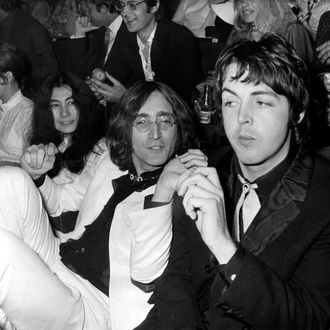 Going "back to the roots" is a notion musicians throw around a lot. And when you're the still-alive half of a songwriting team called Lennon/McCartney, that sentiment suddenly becomes interesting. The 69-year-old Paul McCartney's new album will consist almost entirely of covers of the early rock-and-roll songs that colored the Beatles' first few records — "the songs me and John based quite a few of our things on," according to McCartney.
Granted, the straight-up skiffle-biting, Chuck Berry-miming early works like Please Please Me and With the Beatles don't get the same reverence as the pioneering stretch from Rubber Soul till the end, but McCartney paying tribute to the band's influences feels like it could result in something special.
"I always thought artists like Fred Astaire were very cool. Writers like Harold Arlen, Cole Porter, all of those guys — I just thought the songs were magical. And then, as I got to be a songwriter I thought it's beautiful, the way they made those songs," McCartney said in a statement. He also likened the "very spontaneous, kind of organic" recording experience to "the way we'd work with the Beatles," learning songs on the spot and doing live studio takes. McCartney also recorded his vocals in a booth, sans instrument, for the first time ever.
The album's track list hasn't hit yet, but it'll also feature two original tunes and guest spots from Stevie Wonder (following Drake's lead, no doubt), Eric Clapton, and Diana Krall.  The still-untitled release is set for February 7, 2012.