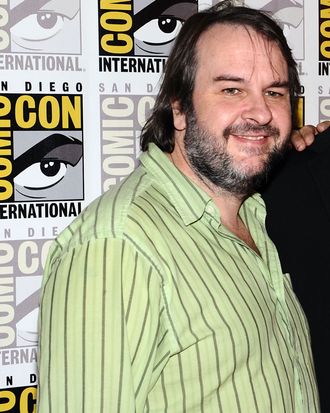 Photo: Michael Buckner/2011 Getty Images
Peter Jackson has been vocal with his interest and activism pertaining to the West Memphis Three, and now a documentary under his WingNut Productions flag has wrapped. West of Memphis, directed by Oscar nominee Amy Berg, will dig into "the untold story behind one of the most infamous miscarriages of justice in American history; the story of an extraordinary and desperate fight to stop the State of Arkansas from killing an innocent man," a press release reads.
Jackson and his wife and collaborator Fran Walsh have followed the case of the West Memphis Three — and been actively involved in the quest to set things straight — for more than half a decade. Damien Echols, Jessie Misskelley Jr., and Jason Baldwin were freed in August after eighteen years in prison; Jackson announced intentions to help Echols get exonerated shortly afterward. (Echols was the only member of the trio sentenced to death.)
West of Memphis may play a significant role on the road toward Echols' pardon, if the Jackson pedigree propels the film to large audiences and widespread coverage. Of course it doesn't hurt that a $20 million dramatic rendition of the West Memphis Three saga is happening, or that a slew of other documentaries on the topic are also in the works.
"I don't know if there are enough films that could be made about this, really, because it speaks to everything that's wrong with our society and our country and our legal system. There are so many themes within this story that need examination," director Berg says in a New York Times piece fascinatingly detailing the competitive overlap between the West Memphis Three films.