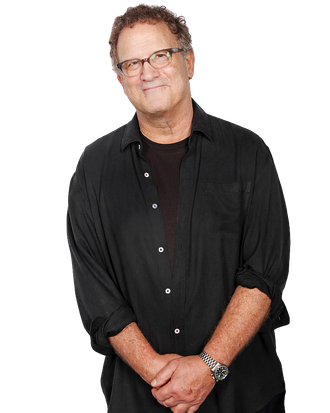 Albert Brooks.
Photo: Frederick M. Brown/Getty Images for 'TheWrap'
The only entry in today's Golden Globe nominations for critics' darling Drive was for supporting actor Albert Brooks, who surprised audiences this past fall with his dark turn as the gangster Bernie Rose. This is Brooks's first Golden Globe nod, but not his first awards race: He was previously nominated for an Oscar for his supporting role in Broadcast News in 1987. Since then, he's had some ideas about how to mount a successful campaign, and he chatted with Vulture soon after the nominations were announced today to discuss just how serious of a threat he's prepared to be this time around.
Congratulations on your first ever Golden Globe nomination! I'm surprised at the restraint you've had about it on Twitter so far.
Thank you! I actually found out about it on Twitter. I have to figure out what I'm going to say. Believe me, this Twitter thing is reducing me to a Borscht Belt comic! I've got to put a little effort into it. I try to do the best free product I can. And yet, still, I get people going, "Hey! That wasn't your best!" Hey! Go die! Go get something for free somewhere else! [Laughs.]
Well, it certainly looks like the letter your team sent out about the SAG snub did the trick. Maybe an Oscar nomination is next.
You know, I don't know anybody who votes for anybody for these things. I'm a member of the Academy, but I don't know who all the other Academy members are. It's not like a politician who knows who is in the Iowa caucus.
Maybe they need some campaign reform for awards season. Exit polls, or something.
You know, I wanted to make a mock documentary about that exact thing! I swear to God. I wanted to open up a campaign headquarters on Wilshire and debate Philip Seymour Hoffman, and make campaign promises like, "Vote for me, and we'll do a shorter show!" "If we get swag, you should get swag." I never did it, though. I thought it would break some rule and they would throw me out of the Academy. But we could do that this year. I'd be happy to debate [fellow nominees Christopher Plummer, Viggo Mortensen, Kenneth Branagh, and Jonah Hill]. All we need are the posters.
The other nominees might be afraid to debate you in person now that they've seen what you can do with a knife and fork in Drive.
Hmmm. Murder is still illegal, right?
Or if they knew you nearly killed someone on your first day of the shoot, choking him to the point of unconsciousness for a scene that didn't even make the movie.
Yeah, I'm sure Ben Marley's telling people about me choking him, too — if he can still talk. [Laughs.] I did a Hollywood Reporter roundtable with Christopher Plummer the other day, and he's a ball. Maybe I can wrestle him. I'll beat the shit out of them all. I don't know about the awards race, but physically, I'll take them. I'll get in the ring. You know, playing Bernie Rose worked really well for my kids. I walk into their room with a salad fork, and homework gets done. [Laughs.] It was fun to explore a side that's been dormant in me. But it's still hard to convince people — it took a Danish director to see that. It's always the same six people on the list that goes round, like it's a baseball team and you're trying to break on to the field: "Hey, Brooks killed a guy really believably. Let's see if Brooks wants to kill the dog." I'm the guy who cast Garry Marshall as a casino boss [in Lost in America]. That was one of the best scenes, because real nasty people don't always seem nasty. When do they ever say, "I knew he was a serial killer from the moment he moved in"? No. They always say, "He was the sweetest guy. He took his trash out." Like on Homeland — if Brody came back and acted like an American Abu Nazir, he'd be in jail in two weeks. I can't wait to see the finale of that show and where they'll go in another year. They can't all be dead. 

Would you want to guest-star on Homeland, perhaps for season two?
No. You can't guest-star in your pajamas.  
Do you feel like Drive has anything in common with your first film, Taxi Driver? That you've come full circle?
I wasn't the violent one in Taxi Driver, I was the pussy. Bernie's not a pussy. [Laughs.] Although there are many moments in Drive, with the slo-mo shots and when he's not saying anything and there's blood on his clothes, that it actually looks like Taxi Driver. You know what it is, the reason so many 18-year-olds, 19-year-olds are saying Drive is their favorite movie is that Drive is a 90-minute trip into what a lot of seventies filmmaking was. It encapsulates the best of a certain kind of style, and a style that a lot of people haven't seen before, with the music and the way it's edited. It's very beautiful and cinematic and lyrical. I was very impressed. A movie like this can go 50 other ways, if you just imagine a different score, or three more crashes.
Such as when that woman sued because she wanted more crashes.
Would nobody give her the $9 back? I sent her $3 — because I'm the supporting actor. I'm just being supportive. [Laughs.]
Has Nicolas Winding Refn tried to lure you for any of his other upcoming movies?
He's off in Bangkok right now for a kickboxing movie [Only God Forgives], and he offered me a two-day part in that, for a guy who gets his tongue ripped out. I said I'm not going to Bangkok for that. Ryan [Gosling]'s working with him again for that. And I like them. I had a good experience. Nicolas wants me to write a movie for Ryan, and he says, "Put a part in it for yourself." So he thinks that's what's happening, between you and me. [Laughs.] The truth of it is, that's why I write my own scripts, because it's hard to find anything I really like, especially nowadays. I'm not throwing away scripts just because they're comedies — I'm playing Paul Rudd's father in This Is Forty — but that's because I wanted to be in a movie that Judd [Apatow] directed. And I like Paul.
One of the roles you turned down over the years was in Pretty Woman — the Julia Roberts part, right?
Well, I was pretty in my day, honey! [Laughs.]
Thank you for basking in the glow of your Golden Globe nomination with us.
I'll go, and I'll look sad if I don't win. You have to practice that look for the square on the screen. You're supposed to look happy or grateful, but it would be great if you could just see someone leave when they don't win: "Come on, honey. Let's get out of here." [Laughs.]