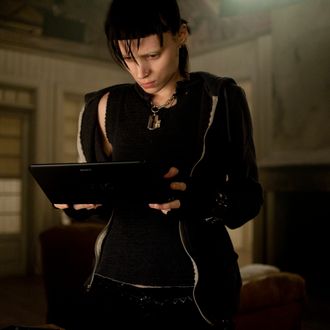 Rooney Mara can't believe what she's reading.
Photo: Merrick Morton/Columbia TriStar Marketing Group, Inc.
Early Sunday, a panicked e-mail from Sony Pictures Entertainment announced that New Yorker film critic David Denby would be publishing his Girl With the Dragon Tattoo review in this week's magazine, violating the studio's December 13 embargo. A small firestorm ensued, mostly stoked by Nikki Finke, who chimed in to call Tattoo producer Scott Rudin "the biggest baby." (A few film critics also had some opinions.) But what does Denby have to say for himself, you might be wondering, or how is Rudin feeling? You're in luck! The Playlist has gotten ahold of the e-mail exchange between Rudin and Denby, and it is really something! The highlights:
Rudin, to Denby:
I'm stunned that you of all people would even entertain doing this. It's a very, very damaging move and a total contravention of what you agreed. You're an honorable man.
Denby responds with some thoughts on the hardships of film criticism:
The system is destructive: Grown-ups are ignored for much of the year, cast out like downsized workers, and then given eight good movies all at once in the last five weeks of the year.
And then he offers a three-part explanation as to why he broke the embargo (below, an excerpt from Part 3):
We had a dilemma: What to put in the magazine on December 5? Certainly not "We Bought the Zoo," or whatever it's called. If we held everything serious, we would be coming out on Christmas-season movies until mid-January.
Rudin answers:
The fact that the review is good is immaterial, as I suspect you know. You've very badly damaged the movie by doing this, and I could not in good conscience invite you to see another movie of mine again, Daldry or otherwise…You will now cause ALL of the other reviews to run a month before the release of the movie, and that is a deeply destructive thing to have done simply because you're disdainful of We Bought a Zoo.
You'll really want to read the whole thing.