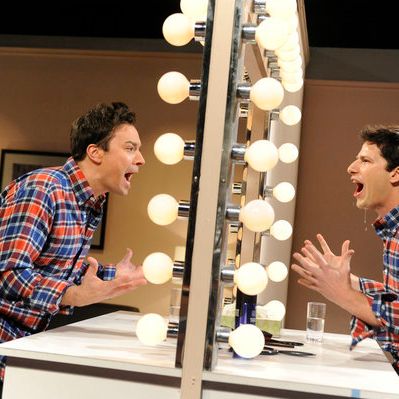 Jimmy Fallon,
Saturday Night Live
homecoming king, with doppelganger Andy Samberg.
Photo: Dana Edelson/? NBCUniversal, Inc.
The worst kinds of Saturday Night Live hosts are the ones who make it obvious that they haven't learned their lines, didn't go along with producers' ideas, or don't evince a sense of humor. (Sometimes, a host will evince all three of these traits: I'm glaring at you, Robert De Niro.) So given that Jimmy Fallon is the exact opposite, it logically follows not just that his hosting debut would be the best of the season so far, but that it would be the best episode in recent memory. Unfortunately, one of the night's strongest sketches — the charming opening monologue — didn't make it online (probably owing to music-clearance issues), so you'll have to trust me that it featured Fallon's pretty great singing voice, nodded at his history on the show, and ended with the whole cast dancing onstage with an infectious giddiness. Fortunately, there are many other high points to celebrate (as well as a few lows we can't ignore).
Best Homecoming:
Given the way Fallon's enlisted his former SNL cohorts in Late Night bits like "Jersey Floor," it was no surprise that many show alumni returned to the show to join their old friend. I predicted that Fallon and his erstwhile co-anchor Tina Fey would do a bit on Weekend Update; I never dared to hope that another ex-anchor, Amy Poehler, would join the two of them AND current Update anchor Seth Meyers for a no-holds-barred joke-off. This is the sketch everyone will be talking about on Monday.
Best Payoff to a Weird Premise:
When this sketch kicked off with Fallon in front of an orchestra and in period dress, I expected it to be too long and dull. But I was happy to be wrong! The premise is that Beethoven (Fallon) has just premiered his ninth symphony, and wants to introduce the members of his "band," like any good front man would do. Fallon's commitment to the bit, the musicians' goofy expressions, and especially the interplay between Fallon and Horatio Sanz really sell the sketch.
Best Showcase for Fallon's Impressions:
I had predicted that Fallon would bust out his impressions of (among others) Jerry Seinfeld and Barry Gibb … and he did, in this sketch that finds him psyching himself up (Andy Samberg) in a dressing-room mirror. A very funny showcase for both performers that affectionately sends up Fallon's reputation for positivity, without being corny. (There's also a mention of why Justin Timberlake, whose cameo I predicted on Friday, did not appear in the episode.)


Worst Recurring Character:
Lillia (Kristen Wiig), the "don't make me sing" lady is back? Why, to prove that Wiig could do a character the public would hate more than Gilly? Mixing up the format by adding Fallon as a party guest who wants to dance just as much as Lillia wants to sing did not make the sketch any less grating.


Worst Physical Comedy:
It's not that there isn't material to be wrung from the complex stage puppetry of the play War Horse, particularly now that the story is about to be released as a film. But The Good Wife already did it. Last season. And given that most of SNL's viewership has probably never heard of the play, this sketch won't even make sense to them. Even those who do know what the play is won't find this funny.



Worst Comment On Current Events:
Tim Tebow is a very pious NFL player with a habit of praying on the field. I'm telling you this as though "Tebowing" wasn't already turned into an Internet meme more than a month ago, because the writer of this sketch seems to assume it's brand new to you. The premise here is that Jesus (Jason Sudeikis) not only has to tell the Broncos that He is responsible for their wins, but tries to distance himself from an overly effusive Tebow (Taran Killam). Sudeikis does what he can, but for this to be the last sketch of an otherwise extremely strong episode is a pity.


PS: As predicted on Friday, here are Fallon, Sanz, Chris Kattan, and Tracy Morgan, performing "I Wish It Was Christmas Today," just as in days of yore.