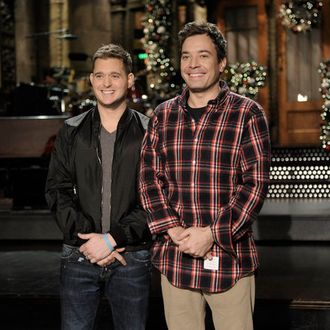 Jimmy Fallon and this week's
SNL
musical guest, Michael Buble
Photo: Dana Edelson/NBCUniversal, Inc.
Tomorrow night, Jimmy Fallon returns to Saturday Night Live — not to the cast, which he was part of for the better part of a decade, but to make his debut as host. Fallon's history on the show makes it both easier and harder to make accurate predictions about the sketches his episode may contain: On the one hand, he comes to the gig with a history of characters … but on the other, he has so many characters that narrowing down the ones he (and the producers) will want to revisit is a challenge! How right will the Sketch Predictor turn out to be? We'll find out tomorrow; scores will be tallied in Sunday's recap.
11:29 p.m. President Obama (Fred Armisen) extends his holiday wishes to the country, playing up his part in ending the war in Iraq.

11:37 p.m. Opening Monologue: Host Jimmy Fallon describes how hard it is to host a late-night show without backup from Steve Higgins (Bobby Moynihan) and ?uestlove (Kenan Thompson).

11:43 p.m. On "The Barry Gibb Talk Show," Barry Gibb (Fallon) and his brother Robin (Justin Timberlake) address current events involving their guests Michele Bachmann (Kristen Wiig), Kathleen Sebelius (Nasim Pedrad), and Sherriff Joe Arpaio (Moynihan).

11:48 p.m. Filmed Segment: Charlie Sheen (Fallon) shares some of his favorite Christmas memories.

11:54 p.m. In the latest episode of "Jarret's Room," Jarret (Fallon) and his best friend Goby (Horatio Sanz) report on their dorm's end-of-semester holiday party.

11:58 p.m. Filmed Segment: Jerry Seinfeld (Fallon) describes how he celebrates the holidays with his family.

12:05 a.m. [Michael Bublé performs.]

12:12 a.m. "Weekend Update" starts with Fallon and Tina Fey at the desk before Seth Meyers shoos them away; an Iraqi citizen (Taran Killam) sarcastically thanks the U.S. for ending the war; and Judy Grimes (Wiig) tries and fails to give tips on holiday travel.

12:29 a.m. Mitt Romney (Jason Sudeikis) follows a bad week of insulting a gay veteran to his face and trying to seem normal by proposing a $10,000 bet in a debate with even more campaign gaffes.

12:39 a.m. Filmed Segment: Bruce Springsteen (Fallon) lists some of his most beloved Christmas songs.

12:47 a.m. [Michael Bublé performs.]

12:53 a.m. Fallon, Sanz, Chris Kattan, and Tracy Morgan reunite for a traditional synth-backed performance of "I Wish It Was Christmas Today."

1 a.m. Good night!