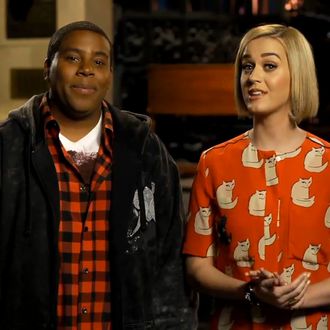 Kenan Thompson with upcoming
Saturday Night Live
host Katy Perry.
Photo: NBC
Since its premiere back before many of us were born, each episode of NBC's Saturday Night Live has featured a relatively fixed mix of content. There will be the topical sketches inspired by the news of the week, the comedic impressions of figures from pop culture, and whatever recurring formats and characters the show hasn't yet (or already has) run into the ground. Because of this 36-year-and-counting repeating pattern, the regular viewer can make some reasonably educated guesses about the material an upcoming episode is likely to contain — and so, the SNL Sketch Predictor was born. (Thanks to the late blog Sling.com, where the technology was first developed.) Each week the Sketch Predictor will factor in the recent news, host's talents, and frequency and recency of current popular bits in order to anticipate the format of the night. Its accuracy will be gauged every Sunday on Vulture's SNL recap. Here is the Predictor's take on tomorrow's Katy Perry episode. (Note: Obviously, the Sketch Predictor is unable to foretell the occasional random original 12:54 a.m. sketches that were clearly conceived in a late-night haze and are often the funniest thing on the show.)
11:29 p.m. Cold open: On a plane waiting for takeoff, an aggressive flight attendant (Kristen Wiig) abuses passenger Alec Baldwin (cameo as himself) for playing a game on his phone, ignoring other passengers who are obviously in the process of trying to sabotage the plane.
11:36 p.m. Opening monologue: Host Katy Perry talks about how she's prepared for her first time appearing on the show as an actor rather than a musical guest, while her husband Russell Brand (cameo as himself) directs her from just offstage.
11:40 p.m. Commercial parody: Perry (as herself) describes her World of Warcraft video-game avatar, which happens to be a unicorn princess made of candy.
11:45 p.m. The Target Lady (Wiig) tries to train a clueless seasonal employee (Perry), but keeps leaving her station to shop.
11:51 p.m. Digital Short: Perry joins "Laser Cats" for an installment featuring her own pet, Kitty Purry.
11:53 p.m. Perry plays a club queen in the latest episode of "Deep House Dish."
12:01 a.m. Commercial parody: Rick Perry (Bill Hader), in his famous barn jacket, tries to "clarify" his position on the international persecution of homosexuals, but only succeeds in making things worse.
12:11 a.m. [Robyn performs.]
12:17 a.m. "Weekend Update" features Rod Blagojevich (Jason Sudeikis) talking about his prison sentence and Zooey Deschanel (Perry) promoting her Christmas album and sitcom, New Girl.
12:32 a.m. Ryan Seacrest (Paul Brittain) meets with Today producers about the possibility of his taking over for Matt Lauer.
12:40 a.m. Donald Trump (Taran Killam) previews the "classy" touches he plans to add to the Republican presidential debate he intends to moderate.
12:48 a.m. [Robyn performs.]
12:54 a.m. Perry (as herself) attends a recording session for the Smurfs sequel, where she meets some of her new co-stars: Denzel Washington (Jay Pharoah) as Chuckly Smurf, and Alan Alda (Hader) as Doctor Smurf.
12:59 a.m. Good night!
Your predictions?