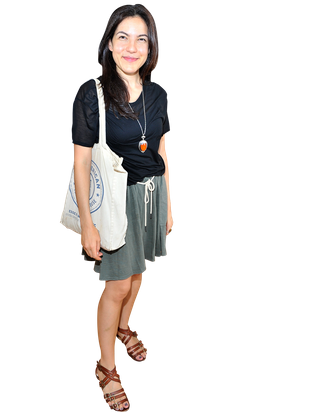 Sloane Crosley.
Photo: Joe Corrigan
As we recently discussed, e-books are opening up the idea of exactly how long a book should be. Tomorrow, Amazon will publish another marquee writer through its Kindle Singles program, book publicist turned essayist Sloane Crosley (I Was Told There'd Be Cake, How Did You Get This Number?). "Up the Down Volcano" is an unusual Crosley production not only in its format, as a stand-alone 11,000-word e-book, but in its subject. Sent to Ecuador by the magazine AFAR on 48 hours notice, Crosley decided, spur of the moment, to climb a 19,000-foot volcano, despite having no mountaineering experience and only a day to adjust to the altitude. Having escaped a snowy death, can Crosley now escape her "girl-in-the-city" pigeonhole?
The story you turned in from AFAR about Ecuador was a short piece on a foreign film you saw in Quito before you'd even decided to climb Cotopaxi. When did you decide to cover the more harrowing experience?
The moment I decided to write about it was when I was curled up in a fetal position with my hands between my legs, shaking [at base camp]. It definitely falls in the can't-help-but-laugh category.
And how did it become a Kindle Single?
Amazon had sent me an e-mail when they were about to start their program: "We're hoping you might want to be a part of it." It reminded me of a letter I have hanging above my desk, from 1954, to Thomas Mann from Alfred A. Knopf: "Dear Tommy, We're starting a line of books called Vintage Paperbacks and we'd like to publish your books to start off the series." I'm not implying that the two of them are the same thing. Anyway, I kind of ignored it, but I had just left Vintage and I was busy working on a novel, and I started writing longer essays for fun. But the maximum length for a magazine feature is maybe 7,000 words. When I originally wrote this it was about 14,000 words, and I thought, It's sort of silly that it's just sitting here. I wanted it to be the cubic-zirconium jewel in a new essay collection, but I don't know when that will be.
Do you think an account of your almost dying on the side of volcano will adjust your reputation from girlie to badass?
Do you find it to be a badass essay? There's a level of altitude sickness at which you get fluid in your brain and you lose lung function and you're severely dehydrated and none of those things happened to me. This maybe is a little bit more thrilling than a subway ride [the subject of a previous essay], one likes to think. But unless you're in a rocket ship or you go to war, it's not that big a deal. In other words, I don't fool myself into thinking this is Into Thin Air. This is a funny, lighter version of Into Thin Air.
Okay, but were you consciously trying to expand your repertoire?
I don't think this is suddenly me saying I'm qualified to live with a tribe on the southern tip of South America for a month. But in this piece there was a lot of cutting off at the pass of the wacky-chick, fish-out-of-water story. In an ideal world, I would not have mentioned that I was having my lady times on the mountain. But the reason it's there is that it makes the altitude sickness more horrible.
You're going to be teaching narrative nonfiction at Columbia next semester. Can you teach kids how to write funny stories?
Well, you can teach people how to find voice. I did — I had a great professor who did that for me at Connecticut College. I think a lot of humor is about distracting yourself. Pretend you're not trying to make it funny. Because for some reason the effort to be funny smells like sulphur in our culture. No one rewards you for trying, but people do reward you for trying to write a huge piece about the GOP. That doesn't have to be perfect in the same way.
Most people in publishing think of Amazon as an increasingly large and malevolent force. Clearly, you don't see them quite that way, now that you're a writer.
I don't think Amazon's a big, evil empire, no. Do I think they're the same thing as McSweeney's? No. Are they allowing me to put something out there that's the length I want it to be and over which I have a tremendous amount of creative control? Yes.
Your publicity background helped you promote your books. How does it apply to this very new format, though?
I love giving people advice on what to do with their books, but I don't really know how a Kindle Single gets covered. There's also just not enough time for me to be as controlling and insane as I might normally be. Because you have 48 hours to say, "Let's figure out a cover." And I sent them a picture of a donkey and there it is.