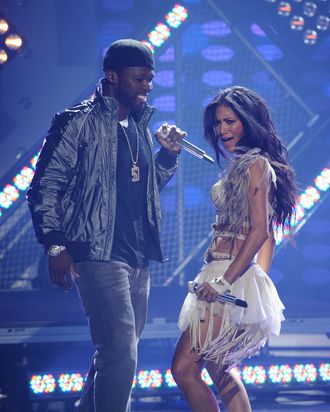 THE X FACTOR: Host, Steve Jones on THE X FACTOR airing Thursday, Dec. 1 (8:00 PM-9:00 PM ET/PT) on FOX. CR: Ray Mickshaw / FOX.
Photo: Michael Becker/FOX
The X Factor's host Steve Jones is looking like a long shot to return for Season 2, according to reports in the Daily Mail. "Short of a miracle," Jones is out, a source tells them. Aw, poor guy — strappingly handsome, sure, but also a confusing nonentity on the show, unable to re-create Ryan Seacrest's sense of purpose. Jones isn't the only one who could be finished after this season, either: At a press conference yesterday, Nicole Scherzinger tried to dodge the question of whether she'd be back at the judging table. "It has been very hard on me, the elimination process. It's something I could never have been prepared for," Scherzinger said, even though she herself rose to whatever kind of fame this is on a reality show, and the elimination process is fundamental to all reality-contest shows. Give America Cheryl Cole already! Update: A rep for Jones denies any conversations about the host leaving X Factor, and a rep for the show tells People that contract decisions won't be made until next year. Our Cheryl Cole enthusiasm remains unchanged.