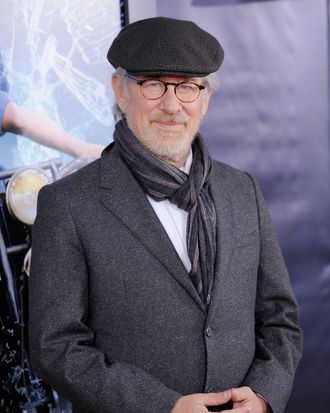 Steven Spielberg.
Photo: Jemal Countess/2011 Getty Images
Steven Spielberg is a very busy man this December. Not only does he have The Adventures of Tintin and War Horse to promote, but he's preparing to shoot his new biopic Lincoln (where Daniel Day-Lewis's chin beard is already in full bloom). Vulture caught up with him last night as Tintin premiered at the Ziegfeld, and while Spielberg's motion-captured adaptation of the Herge comic is doing gangbusters business overseas, it's a question mark as to how well it'll do in the U.S., where adventuring reporter Tintin is less of a known quantity. Spielberg is well versed in Tintin lore, though, and he chatted with us about doing the comic justice, what his kids think of him, and envying Indiana Jones.
It's been said that Indiana Jones and Tintin have a bit in common …
You know, they were saying we owed a lot to Herge's Tintin, so I got ahold of the books — which wasn't easy in 1981 in the U.S. — and I could see a lot of the similarities with the adventures and the globetrotting, but I thought they were different enough that they could coexist. Each of these adventures is unique. So I tried to get the rights back in 1983, when I was directing Temple of Doom. I talked to Herge, and it was one of the most exciting phone calls of my life. He told me he was a big fan of Raiders, and he said he did want me to adapt the books, but then he died three or four weeks later. So this has been almost 30 years in the planning stages!
Did you always want to do it as an animated film?
I never really considered doing it as an animated film back in the eighties, but if I could have made the film back in the eighties, I would have done it as live action. I think fate stayed our hands until the right medium came along to tell the story. This technology is like another paintbrush. I think we made a Tintin that Herge would be proud of, if he were here.
I was trying to figure out what the possible sequel would be, since you have so many books to choose from.
We have a book and a title and it's all picked out, and we're writing it right now, but I can't discuss it. I have to be mum about what it's going to be.
Oh, okay, I just thought you'd have to introduce Professor Calculus in the next one, so The Calculus Affair might be good.
That's okay, you're like Tintin. You must ask the questions. You wouldn't be a good reporter unless you asked me that, right? I look for good stories the way he looks for good stories. He looks for good stories to report; I look for good stories to make into movies. I have a real image of that character.
Do you usually identify with your protagonists?
Not all the time, but sometimes in the middle of a movie, I'll find myself doing things or have the character do things that I recognize in my own life that I've done, and that's just good. It's good when a filmmaker can throw a little of themselves into the character. I don't do it all the time. I never did it with Indiana Jones, because I could never be anything like Indiana Jones. No matter how hard I tried, never in my dreams could I be anything like him. So Tintin is more accessible to my own nature, my own tenacious nature. So I'm Tintin. I'm also a Goonie.
What do you mean?
Oh, I'm just living the image my children have of me — Daddy's a nerd.
You're not a nerd!
My kids think I am! [Laughs.] Just like I thought my parents were squares, which is the word we used. My kids think I'm a little bit out of touch.
Well, if you're a nerd, or a geek, you're a geek in a good way.
I'm a good geek, like a Dad geek. I go out of my way to applaud my kids for getting great grades, and they think I go overboard with that. Like I want to reward them, take them out for ice cream, and those are things parents aren't supposed to do. [Laughs.]
Speaking of recognition, do you think Tintin's Andy Serkis should win an Oscar for his mo-cap performance? He was great in Rise of the Planet of the Apes.
If people go and see the movie and enjoy the movie, Andy, knowing Andy as I do, will say that's enough for him. But I never speculate about awards, that's not for me to do.