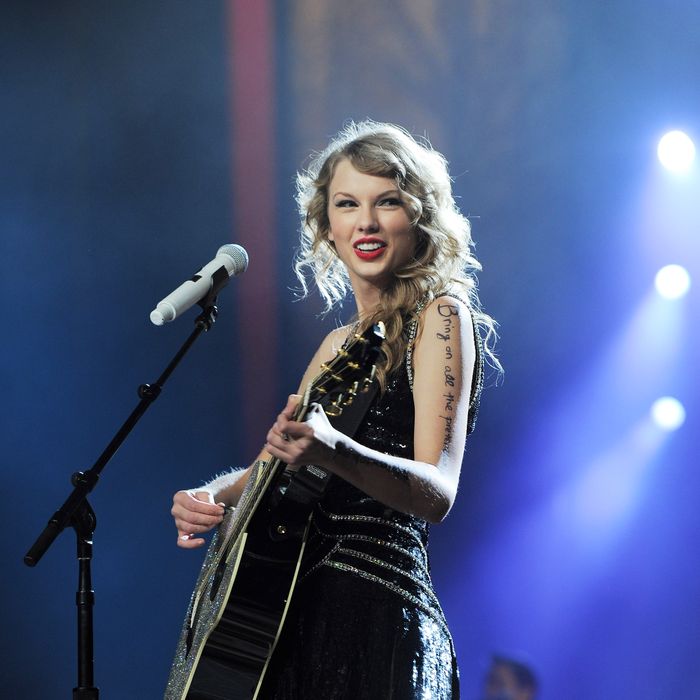 Photo: Larry Busacca/2011 Getty Images
Today is Taylor Swift's birthday. She turns 22. Twenty-one was a particularly good year for Swift: Not only could she finally drink legally, her third record, Speak Now, sold over 5.5 million copies, she went on a wildly successful tour, she dated Jake Gyllenhaal, made peace with Kanye, took big strides in arm dancing, won many, many more awards, and did it all without a breakdown, meltdown, or any of the otherwise alarming episodes that have beset so many of her peers. It will be a hard year to top, but it is possible. Maybe 22 is the year Taylor Swift will finally stop seeming so precocious and start seeming like an adult.
Precociousness has long been one of Swift's defining qualities. This is the person who emerged at 15, writing the kind of perfectly crafted pop songs people four times her age would be proud of. As Sasha Frere Jones wrote in a piece about Swift's second album Fearless, while comparing her to the likes of Prince and Elvis Costello, "people who aren't old enough to have lived the songs they've written nevertheless know how the song embodying that life should go." Swift has always exhibited an uncanny knack for doing exactly this, knowing, if not how life actually goes, how we all imagine it should. Her lyrics are preternaturally attuned to people both older and younger than her, appealing to the former group's sense of nostalgia ("remember when?") and the latter's sense of hope ("Someday soon!") .
Swift's precociousness is not just lyrical: Like all the best and brightest child stars, she has always been wonderfully behaved, giving interviews where nary a word is wrong, where nothing bad is said. Magazine profile writers do their best to get her to say one colorful, inappropriate thing: it never happens. While this is vastly preferably to a Britney/Lindsay/Miley type outburst, there something about Swift's presentation that is unnerving, in much the same way as hearing child actors say things like, "Any day acting is an amazing day" or "It's absolutely great to get such great material. " But saying exactly the appropriate, mature thing doesn't make one an adult: it just means one is good at mimicking adults. At 22, Taylor Swift still seems like she's faking it.
The most obvious example of this, of course, is Swift's now infamous surprise face, the one she deploys every time she wins an award. The face is meant to be genuine, humble, and polite, but it comes off as affected. She has won more than 60 awards. It is getting difficult to believe it's a shock. Swift, like the good, smart stage kid she is, is obeying the letter, rather than the spirit, of graciousness. She comes across as disingenuous in the very act of being herself.
Swift's fans, of course, find her relatable anyway, what  with her favorite sayings scrawled on her arms in pen and all those endless stories about boys.  But the joke of all of Swift's romances is they couldn't have been anything but very brief: Swift has spent the last seven years busting her ass to be a famous and successful musician — when did she have time for all these fellas? Her lyrics expose her. Take the words to  "Dear John," Swift's ode to John Mayer. As the story goes, John Mayer worked with Swift when she was 19,  things got romantical, then he played head games with her, hurt her, and made her cry. In the song's major put down, Swift sings, "Don't you think I was too young to be messed with,"just about the most self-belittling insult imaginable. Sure, Swift is calling Mayer a pervert and a jerk, but she's also saying she wasn't his romantic equal. It's condescending to Mayer, but also to the young woman who liked him so much, and was just being manipulated: It's the sort of insult someone's mother, not a scorned lover, levels. Swift is just imitating the grown ups.
The rest of her boy-crazy anthems voraciously pillage from our cultural store of romantic clichés and very rarely get specific: Sparks fly instantly; kisses happen in the rain; bouquets end up in the trash; hands run through hair; grooms skip out of on weddings; people have meaningful drawers at their boyfriend's house. Swift assembles all these cliches so artfully, they become wonderfully evocative (Taylor Swift's pop songs are like if Hallmark cards were written by an emotional genius), but none of it feels personal, lived, or unique. That's part of their power: At the concert she recently gave at Madison Square Garden, before introducing "Fifteen," she told the crowd of largely pre-teen girls about those times when you've just broken up with someone and you start to cry in the front seat of your car. All the little girls in the audience cheered, because they would cheer anything Swift says, but also because, even though none of them can drive, they already know exactly what she was talking about.
Taylor Swift has a catalog of terrific songs about what it's like to be a girl, but she's a very special one, and if she wants her public persona to stay as likeable as her work, she's going to have to figure out how to acknowledge this. Swift doesn't have to go full Kanye and write a whole record about the weirdness of being famous, but in not so long, songs about her having a profound crush on a guy she saw for 10 seconds at a party — one who probably would have loved to have met her — may start to seem as bogus and immature as her surprise face. At the end of the MSG concert, during the encore, Swift was handed a guitar. She explained that this guitar may have looked like the same one she had just been playing (they were both brown) but this one had 12 strings. And then she played it. It was the most adult thing she did all night.