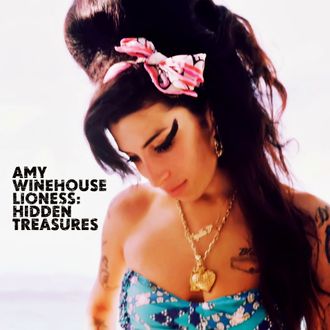 Amy Winehouse - Lioness: Hidden Treasures
As is the case with any posthumous album, it's hard not to listen to Amy Winehouse's Lioness: Hidden Treasures (out today) without reading between the lines. This is the last (reportedly) we'll hear from Winehouse, and so the album takes on a slightly unsettling quality, as if the recordings could somehow speak to the sad situation at hand. They can't, obviously (and weren't supposed to; most of the tracks were recorded at studio sessions between 2002 and 2004, and all but three songs are either covers or different versions of old Winehouse tunes). But Lioness still has moments of unintentional resonance. This isn't uncommon on posthumous albums. Herewith, a brief roundup of ten troublingly topical posthumously released songs.
1. "To Live or Die in L.A.," Tupac Shakur
"To Live or Die in L.A.," off Don Killuminati: The 7 Day Theory, the first and best of Tupac's posthumous releases, was recorded two months before his death and is jam-packed with call-outs, references to his legal troubles, and questions like, "What's the worst they could do to a ni–a?"
2. "Borrowed Time," John Lennon
Off Milk and Honey, Lennon's 1984 album with Yoko Ono, "Borrowed Time" was reportedly inspired by a yachting trip during which everyone but Lennon got super seasick. He had some time to steer the boat and write lyrics about "living on borrowed time / without a thought for tomorrow / good to be older / would not exchange a single day or year."
3. "Heart and Soul," Joy Division
The entirety of Closer — released in 1980, two months after the suicide of lead singer Ian Curtis — is bleak, but "Heart and Soul," with lyrics like "Existence, well, what does it matter?" cuts particularly close. (Although, to be fair, anything on the band's previous album could have served as a suicide note as well.)
4. "Satisfied Mind," Jeff Buckley
The last song on 1997's Sketches for My Sweetheart the Drunk, a two-disc album released a year after Buckley's death, this cover includes the lyrics "My life is over / and my time has run out." 
5. "You're Nobody (Till Somebody Kills You)," Notorious B.I.G.
Before his murder, Biggie denied that the Life After Death track was about Tupac, though now it fits them both.  (Biggie was killed two weeks before Life After Death's scheduled release.)
6. "Say Goodbye," Eva Cassidy
Most of Cassidy's well-known covers could also fit in this category ("Somewhere Over the Rainbow," "What A Wonderful World"), but the wistful "Say Goodbye" — "I call you up just to tell you why / why I left you and say goodbye" — was officially a posthumous release.
7. "Miss You," Aaliyah
A year after her death, the I Care For U track was turned into a star-studded tribute video. (It's unembeddable, so click through.)
8. "Thugz Mansion," Tupac
With eight posthumous albums, there's a lot of Tupac to go around. This one, off 2002's Better Days, involves a lot of rapping about heaven.
9. "Ain't No Grave (Gonna Hold This Body Down)," Johnny Cash
A cover off his semi-spiritual 2010 album of the same name.
10. "A Song for You," Amy Winehouse
"And when my life is over / Remember we were together / We were along and I was singing this song for you." Oof.