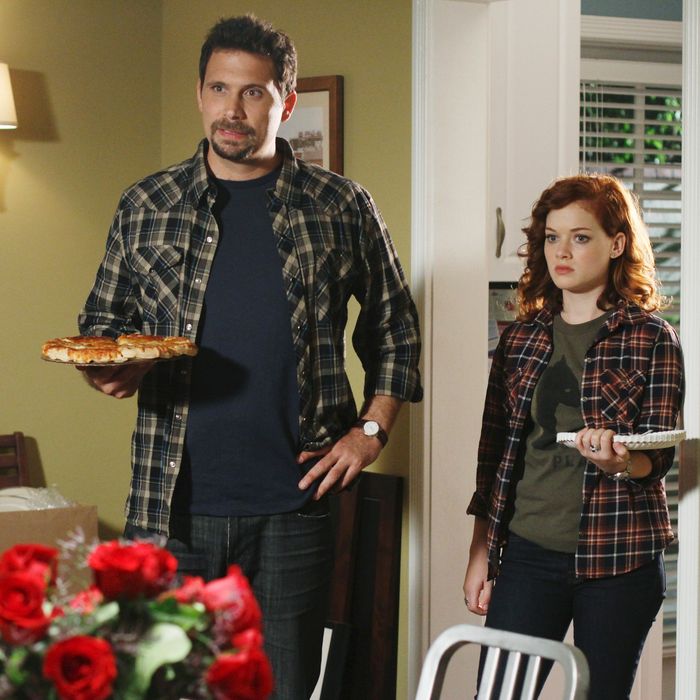 Photo: Michael Ansell/? 2011 American Broadcasting Companies, Inc. All rights reserved.
One of the fall season's most surprising success stories has been Suburgatory, ABC's off-kilter family comedy starring Jane Levy and Jeremy Sisto as New York City expatriates attempting to survive in the land of SUVs and big box stores. The show seemed the type of small, quirky single-camera comedy that viewers might easily overlook. Instead, Suburgatory has proven a perfect fit on ABC's Wednesday night: Hammocked between The Middle and Modern Family, it regularly adds viewers from its lead-in and has been given a full-season order. With the show headed into a brief winter hiatus after tonight's holiday-themed episode, we checked in with creator and showrunner Emily Kapnek, who let us in on a slew of Suburgatory secrets and spoilers to tide us over until the show returns next month.
Chatswin may boast the most deluxe secondary school in history. Its water fountain is actually a water cooler with lemon and lime in it. The cafeteria has a carving station. Fresh-cut flowers are in each stall of the girls' bathroom.

"When we sat down to talk about the world of the show, and what things we could do to heighten the experience, we talked about the little things," Kapnek explains. "We wanted to make it as over-the-top as possible, the fact that these public schools could be equipped with the best." Some items, like the water fountain and the flowers, have been spotted in early episodes. Yet to be fully explored: Dalia's locker, which Kapnek says is "insane. There's a disco ball involved."

George and Tessa are not meant to have sexual chemistry.

You wouldn't think Kapnek would have to "reveal" this bit of info, but, um, it turns out there are George and Tessa 'shippers out there. Sort of. While we at Vulture have been totally pushing an alternate timeline on 2 Broke Girls in which the two leads are 2 Brokeback for each other, there are some fine, outstanding folks at sites such as the A.V. Club and Hitfix who've conjured up an alt world in which father-daughter duo Tessa (played by a 22-year-old) and George (portrayed by a 38-year-old) have way too much sexual chemistry. David Letterman boosted this would-be meme when, while hosting Levy as a guest,  he acted as though he thought she and Sisto were an onscreen couple. Kapnek thinks Letterman was simply "doing a bit." As for others who've been left uneasy by perceived incestual sparks, the writer says this idea has thrown her a bit. "It's surprising that some people feel very committed to sexualizing" the vibe between the two characters, she says. "Is it intentional that their relationship felt fresh and different and unlike other stuff on TV? Yes. Did I think people were going to sexualize it? Certainly not."

Instead, Kapnek says the Tessa-George "dynamic is based on my own platonic relationship with my child. I was a young parent, and I ended up being a single parent … When you're a young parent, you grow up along with your kid. There's a playfulness and youthfulness to their relationship." Recent episodes have addressed this: In the Thanksgiving half-hour, George tries to lay down the law with Tessa when she complains about spending the holiday in the burbs. "There's a (conflict) between him wanting to walk the walk as a Dad and at the same time … seeing things from her perspective," Kapnek says.

Suburgatory's faux rockers Average Shelf Life are actually Brooklyn-based band One Ring Zero.

Tessa's favorite band made an appearance at her over-the-top sweet 16 party, but in voice only: Actors actually portrayed the musicians since the real group "was traveling at the time," Kapnek says. She says Suburgatory scribe Andrew Guest "hipped the room to their music," and when the other writers heard their tunes, "We all said this is the kind of music Tessa would like." Kapnek's already found a likely song for the show's season-one finale. "It's called 'Welcome to Suburbia,' and it just makes me want to write an hour-long montage and loop the song. It's like it was written for the show."

Those prize-winning roses so beloved by Sheila Shay (Ana Gasteyer)? They're the result of a very unorthodox fertilizer.

Specifically, it's the one third of her ovary that wasn't saved in her previously mentioned hysterectomy. "We knew from the pilot that Sheila (Ana Gasteyer) suffered from fibroids," Kapnek says. "And then one day, Ana was telling me that when she grew up, there was a woman who had a prize-winning garden which she fertilized with expired blood her husband brought her from the hospital where he worked. We loved the idea that Sheila was harvesting her roses with all sorts of ungodly stuff."

Fred (Chris Parnell) has a penis phobia.

Not all penises, mind you. He's afraid of uncircumcised members only. This fun fact will be revealed in an upcoming episode in which Dallas (Cheryl Hines) introduces Fred to a new friend of hers. "It sends Fred into a cold sweat when he hears [the new pal] is all natural," Kapnek says. "Why does it bother him? I'm not sure." Also, if you're wondering just why the married Dallas would know the condition of another man's member, all we can say is that it relates to a major (and yet very logical) plot twist coming up early next year. (Tonight's episode offers a clue.)

Dallas went to an all-black college.

It was not named either Spellman or Hillman, but only because ABC and Warner Bros. lawyers told the producers she couldn't use the name of a real black college or a fake black college already used on another TV show (the college in A Different World, in case your eighties TV knowledge is sketchy, was Hillman). "It may have to end up being a fictitious school, which would be a bummer," Kapnek sighs. Dallas's unlikely alma mater will be revealed in an episode in which we get to meet Dallas's sorority sisters. Fingers crossed that one of them is named Lisa Bonet or Jasmine Guy.

Chef Alan (Evan Arnold) has been knocking boots with Mr. Wolfe (Rex Lee) for almost a decade.

The Wolfgang Puck of the burbs, seen in the Thanksgiving episode, is actually Wolfe's secret lover. And yes, we will see the former Entourage regular come out in an upcoming half-hour guest starring Dan Byrd of Cougar Town. Chef Alan, however, is staying in the pantry.  

Kimantha (Abbie Cobb), one third of the show's notorious "KKK" sisterhood, has two younger brothers. And yes, they have hybrid names.

And those monikers are Jimothy and Kevuel (the latter would be Kevin and Samuel). As for the other portion of the "KKK," twins Kenzie and Kaitlin, Kapnek says we will soon discover that they are the offspring of Tom (Todd Sherry), "one of the effeminate men in the barbecue that George thinks are gay."

Work on Suburgatory, get a character named after you.

Kapnek has a fondness for giving characters names tied to folks she knows. So Officer Breen is named after writer Patty Breen, the Law Offices of Chamber and Layneberg is named after writer Brian Chamberlayne, and Traneka's (Chatswin's newest boutique store) is named after Kapnek's assistant. Other showrunners have named characters after their managers and agents. Can we expect that next? "God, no!," Kapnek laughs.
There is a Founding Mothers mural at Chatswin High. The four women pictured on it are Jackie Onassis, Mother Teresa, Eleanor Roosevelt … and Lisa "Left Eye" Lopes.

"We haven't featured it yet, but it's there and in the background," Kapnek says. The former Parks and Recreation writer says the art "is a good nod" to her former show. "They love a good mural joke over there," she says. "We thought it would be funny to include 'Left Eye.' She played by her own rules."