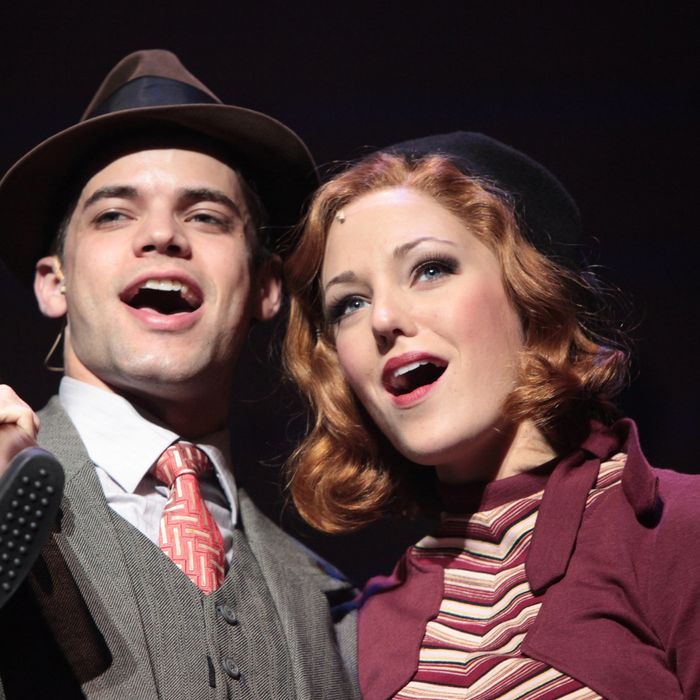 Laura Osnes and Jeremy Jordan in 'Bonnie and Clyde.'
Photo: ASOLO REPERTORY THEATRE/FRANK ATURA
Why, outside of marketing, does Frank Wildhorn keep coming to Broadway? One gets the feeling the terrifyingly prolific composer of Jekyll and Hyde, Wonderland, and other entertainments would be much happier west of the Allegheny: roaming the countryside, hitting low-security regional theaters, making off with iTunes and ASCAP royalties. Instead, he insists on bringing his trademark brand of automated pop blandness to the Great White Way, where sourpuss critics are compelled to point out how automated and bland it is. Wildhorn's oeuvre hasn't gotten much traction here since Jekyll, in part because Wildhorn doesn't write shows: He writes musical templates, with fields left empty for yet-to-be-generated content. His subjects appear to be selected by focus group and tend unmistakably toward the generic and public domain. Alice in Wonderland, Dracula, and now Bonnie and Clyde: These sound like idea prompts from a seminar on musical-theater writing. But for Wildhorn and his collaborators, they're final drafts. Ol' Frank, outlaw that he is, always runs headlong into what must now feel like a tiresome barrage of not-ready-for-Broadway brickbats from jerkface Keystone Kritics like yours truly. The only question is, can he shoot his way out?
Not this time, I'm afraid. Bonnie and Clyde: The Musical, starring sporty young comers Laura Osnes (Grease) and Jeremy Jordan (Newsies), isn't as droopy-bad as Wonderland and Dracula, but it's no Jekyll-esque guilty-pleasure either. It's too self-serious to be any fun, too aridly artless to engage the higher faculties, and too slight and minor, in ambition and execution, to earn our Schadenfreude. Bonnie and Clyde wants to be eminently consumable soft-core Broadway pulp, with its damp shirtless grapplings and haunch cuppings and floppy anger sex. (Jordan and Osnes doff and don more articles of cumbersome Depressionwear onstage than they do backstage, which, far from exciting our loins, just makes us feel bad for the stagehands who have to clear it all between scenes.) P.S., the show's creators also see it as ferocious recession-era commentary: a full-blown Dorothea Lange slideshow drives this point home, in case you're missing it. The show's creators are looking to reclaim America's iconic "It" Couple of Crime for the 99 percent. How do we know this? Backstory!

No less an eminence than Stephen Sondheim (whose Assassins Wildhorn has clearly listened to lately) recently railed against the misuse of "backstory" to anchor archetypes. Unlike Porgy and Bess, Bonnie and Clyde were real people, of course, but this show doesn't have the muscle to snatch back the tintype plates from the likes of Arthur Penn and Warren Beatty. The Wildhorn Gang has clearly made a decision not to print the legend. They just haven't decided exactly what to replace the legend with.

So, after a crude but effective neck snapper of an opening, we hit a deep slough of personal history: Bonnie's father's death and the collapse of her first marriage, Clyde's brutal prison rape and the vengeance he took on his attacker, the first stirrings of the criminal impulse. Jordan's hooded eyes and alluring sociopathic smile — an edgier version of the sensitive-thug vein he works in Newsies—promises sexy, diabolical mischief, but Ivan Menchell's book insists on delaying the mayhem to make room for more character-building bullet points he found on Wikipedia. Jordan, the pugnacious jut of his chin advancing on us like the front end of a Ford V-8, comes on a perfect charmer, but gets snarly-sweaty fast as he strips Clyde of all residual Beatty radiance and lays bare his bestial side. (Which, let's face it, was already pretty laid bare.) Jordan is a star with charisma to spare, but he's working hard, which means we in the audience are working hard, watching him, which, in turn, makes it ever more difficult to appreciate the light nostalgic fizz of Wildhorn's period-inflected pop. ("How 'Bout a Dance?" is a nice little wisp of swing, but neither the music nor Don Black's empty lyrics — "How 'bout a dance / Let's make a start / Music like this can really throw ya / You'll lose the blues and you may lose your heart" — ever make that crucial leap from one to two dimensions: It's all just chintz and atmosphere.) Meanwhile, Osnes must contend with a Bonnie who doesn't really make sense, off the page or on the stage: Far too much attention is given to her girlish dreams of movie stardom, far too little to her apocalyptic embrace of Clyde and the annihilation he's clearly bound for. There's no grown-up hunger in her; it's as if the Little Mermaid stumbled into a G-man noir. But then, there's no hunger in Bonnie and Clyde. As the actors are dwarfed by ceaseless digital slideshows of the real gangsters they're playing (which director Jeff Calhoun sprays all over the packing-crate set), it's as if we're watching a PowerPoint presentation for a musical yet to be written. In fact, I'm pretty sure that's the case. On Broadway —as in crime and in Wildhorn — there's no such thing as One Last Job.
Bonnie and Clyde is at the Schoenfeld Theater.