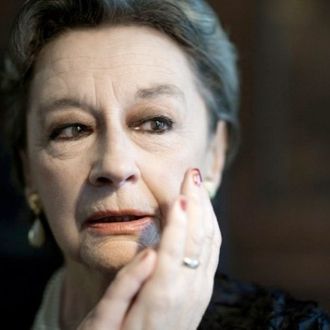 Zoe Caldwell in
Elective Affinities
.
Photo: Julieta Cervantes
David Adjmi's fast, fanged one-act Elective Affinities — a nocturne for diva, sculpture, piano and townhouse — doesn't trip itself up with nuance: Alice Hauptmann (played by stage doyenne Zoe Caldwell) invites a lucky dozen or so friends/audience members who have received invitations (and the address) into the sitting room of her neo-Whartonian Upper East Side. She scrutinizes us as she pours her tea with a quaking hand: Does she know us? Are we her sort, her circle? Some of us pass with flying colors. Others are regarded with intense and relentless suspicion — and that, we're given to understand, is why they're Others. Alice proceeds to reveal herself as a perfect gargoyle of the one percent, practically a Strangelove in hose: a torture-apologist, unabashed plutocrat, and honey-voiced Social Darwinist. She's also, in the expert hands of Ms. Caldwell, a pure demonic delight. (Want to build the perfect monster? Start by hiring someone with searing turns as Medea, Lady Macbeth, and Maria Callas on her resume.) "I suppose I do care about foreigners, political prisoners, murderers, terrorists," she says at one point, briefly surprising herself. "I believe they have value." Then she clarifies: "Not innate value, but the value I assign them … I'm indifferent to those people and that indifference is what makes it possible for me to be partial to other people." She sips her tea. "I think that's what love is."
This stark chiaroscuro notion of love as a closed loop is embodied in a heinous sculpture crouched downstairs in Alice's drawing room, which audience members have spent the last half-hour admiring while awaiting the great lady's entrance. Suggesting an enormous crushing boot heel, a scorpion's dead carapace, a charred mass of once-living tissue, the piece looks like something HR Giger might enjoy napping on. Alice says her husband, a globe-trotting German businessman (naturally), absolutely detests the sculpture and swears, "Either it's growing or I'm shrinking." We certainly feel its unseen presence expand throughout the evening, as the lights steadily dim in Alice's cozy sitting room and our thoughts turn to the horror downstairs, the dark matter of unloved humanity that Alice requires to set off the bright metal of her impossible happiness. If this all sounds as bald and pointed as it is unsparing, I assure you, it is. Elective Affinities is a simple, angry little canker on the pulled face of the UES. Tickets are nearly impossible to get — you have to know the right people — but, darling, isn't that the point?
Elective Affinities is at a location disclosed only to ticket holders through Dec. 18. Advanced tickets are sold out, but information on day-of sales can be found here.