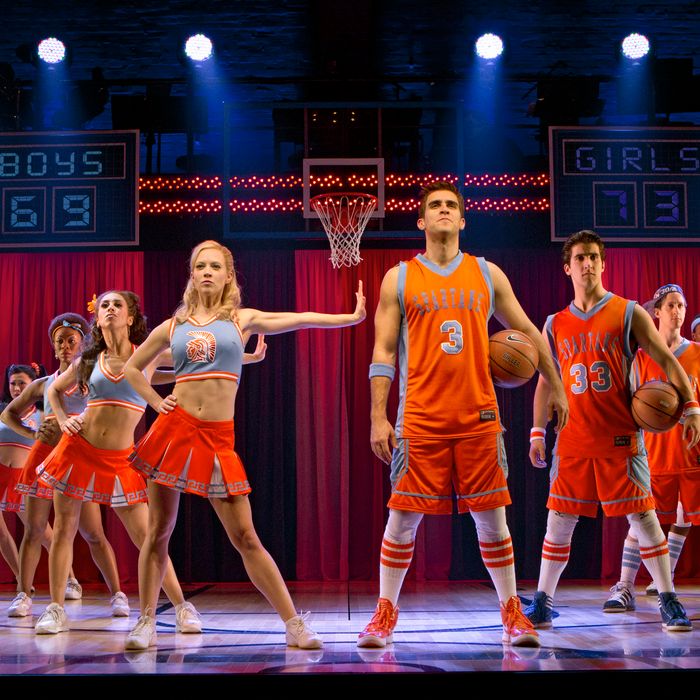 Into Broadway's bleak midwinter comes a bright orange ray of summer nonsense: Lysistrata Jones — an agreeable, disposable, Off Broadway musical goof on Aristophanes by the creators of Xanadu — has been carted uptown from the Gym at Judson and deposited in the Walter Kerr. Weightless, harmless, wittily witless, and surprisingly sexless (for a show about women holding out on their menfolk, this time in a college-basketball milieu), the show transforms an ancient Greek sex comedy into a modern American abstinence skit, stripping away generations of antiwar or proto-feminist interpretations and replacing them with indifferent yo-go girls. The show isn't laying claim to any greatness of spirit or intellect: As the celestial narratrix Hetaira (Liz Mikel) explains tunefully at the beginning of the show, the chief attraction of "something that's old and so arcane" for the adapters lay in the fact that "it's public domain." In other words, Xana-don't think too hard about what you're about to see. Less isn't necessarily more in Lysistrata Jones. It's simply all there is.
Creators Douglas Carter Beane (who wrote the book) and director-choreographer Dan Knechtges similarly merged the worlds of togas and tank tops last time out, with triumphantly smart-dumb results. (Composer-lyricist Lewis Flinn, who's written scores for plays by Beane and Charles Busch, knows the camp campus pretty well, himself.) But Lysistrata feels a little more invested in its characters' happiness than Xanadu did, and that's not necessarily the right move for this material. After all, this Legally Blonde–indebted reboot of "Lyssie" (played with chirpy verve by funny, button-cute Patti Murin) isn't exactly trying to stop a war here; she's just trying to get the long-cursed Athens University men's basketball squad to shake off its fashionable apathy and win a game. To this end, she organizes the female student body — divided helpfully into such cheerable Types as the Spicy Latina, Cleonice (Kat Nejat); the Superachieving Black Woman, Myrrhine (LaQuet Sharnell); the Underachieving Asian, Lampito (Katie Boren); and the Haplessly Asexual Feminist, Robin (Lindsay Nicole Chambers) — into a phalanx of pitiless cockteases. "No more givin' it up / Till you give up givin' it up" the girls sing to their undermotivated boy toys, in the show's second-best line. (The best belongs to Hetaira: "Have mercy! / Good God! / We got a sex jihad!")
The fact that a play often interpreted as a pacifist parable has been transformed into a fight song, with women not so much turning the tables on the patriarchy as embracing antiquated gender roles to get what they want, is an irony to which Lysistrata Jones pays only passing and passive reference. The show is so post-feminist it's pre-feminist, and so happily asinine about sex, about race, about politics, about everything, there's no danger of meaning seeping in. The surface of this show is as smooth as its wrinkle-free brain. Its mind-set is solidly sophomoric, and I don't mean secondary school, either. (I suspect the setting was originally a high school, but somewhere along the line, the inherent sex — although here mostly limited to sexting and innuendo — was judged too "adult" for minors, too dangerous for touring, and, voilà! "Athens University" was born.)

Lysistrata Jones's insubstantiality is its secret weapon; it's also its Achilles' heel. The show, which filled a downtown gymnasium full to bursting with ditzy energy, feels small and echo-y on a Broadway stage. (There were still some noticeable balance issues between singers and band the night I saw it.)  The story is little more than a series of hookups and breakups, and even this soap bubble of a structure barely retains its shape: Character arcs are concluded messily and with great labor, and really, we don't even care. We're here to watch boys dance with basketballs (which they do and do well, with fun and slightly unpredictable results — watch out, first five rows); we're here to see girls bounce around pseudo-ironically in cheerleader outfits, with no threat of real carnality waiting in the wings. We're to enjoy pleasantly familiar-sounding thump ditties, and we do. (Flinn's fizzy-fun tunes owe a great deal to the pop and hip-pop of the early nineties, especially En Vogue and Desiree.) We're here to sop up the refracted joy of a talented, enthusiastic young cast, all of whom are clearly delighted just to be here. Squeaky, creamy Murin isn't designed for laying diva-ish waste to a big room (that's what Mikel's here for), but she's easy to root for in the lead, and Chambers channels the irrepressible physicality of Carol Burnett to a role that's essentially synthetic and irritating: Being the ranking feminist in Lysistrata Jones is like being in charge of the lifeboats on the Titanic.
But why sweat the small stuff? The joy of Lysistrata Jones is that it's a pleasantly, peppily, so-dumb-it's-almost-clever undergraduate burlesque that's somehow made it to Broadway; the awkwardness of Lysistrata Jones is that it's an undergraduate burlesque that's somehow made it to Broadway. If you feel like threading that needle, then Lysistrata Jones is a solid layup. No harm, no foul.
Lysistrata Jones is at the Walter Kerr Theatre, in an open run.