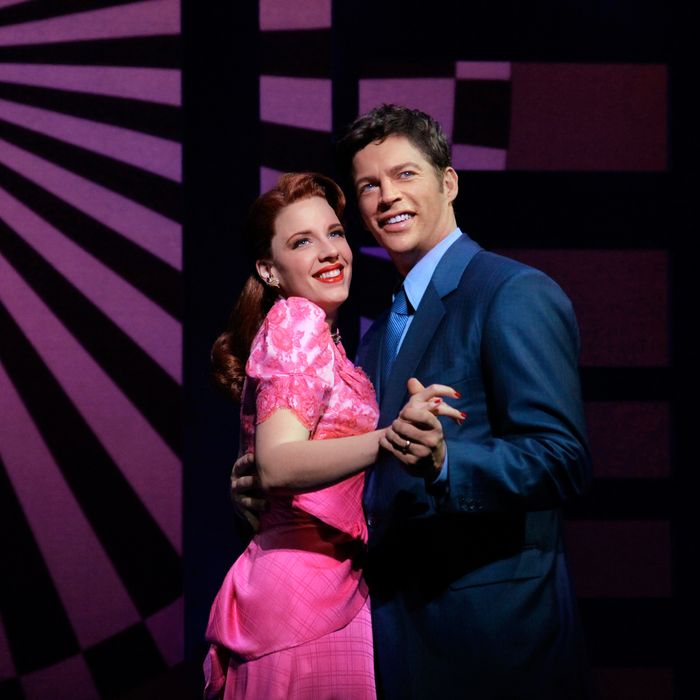 Out of the coral-colored protoplasm of the past, Michael Mayer has raised up a weird chimera: His "reincarnation" of the 1965 oddity On a Clear Day You Can See Forever may be more platypus than unicorn, but for a platypus, it's surprisingly light on its webbed flipper-feet. This new Day has flaws and foibles of its own, but it's far more elegant than the original show and a valid (if more than slightly cockeyed) entertainment on its own weird merits.



It's not as if there's much to desecrate here. The '65 Clear Day is built on one of the more famously bad libretti in Broadway history. Alan Jay Lerner's book (helpfully and pointedly furnished to critics for comparison) centers on a possibly clairvoyant young ditz named Daisy Gamble treated by Dr. Mark Bruckner, a no-nonsense Freudian analyst. Under hypnosis — to which she's all too susceptible — Daisy appears to regress to a past life, and Bruckner finds himself falling in love with "Melinda," a seventeenth-century proto-feminist superwoman, while Daisy mistakenly believes he's falling for her, and an astral love triangle is born. Mayer nudges the story up a decade, after Stonewall, to 1974, throws in songs from the bizarro 1970 Streisand film adaptation (and a few Lerner-Burton Lane tunes from Royal Wedding), and then adds a new wrinkle: Daisy is now David (Arcadia's David Turner), a daffy, femme-y florist. (He retains Daisy's literal flower power: S/he makes buds burst forth by talking and singing to them.) And voilà! A show generally dismissed as the Greatest Generation's bumbling attempt to get hip to hippiedom is transformed into a modern-day experiment in double-reverse nostalgia. Now Dr. Bruckner (Harry Connick Jr.) is a very straight, very grief-stricken widower who sends mixed signals to his patient when he keeps inviting him back for private sessions. Little does David know, Bruckner's really interested in Melinda (shining Chicago import Jessie Mueller), a brassy forties jazz chanteuse. To concerned observers (especially his quietly devoted colleague Dr. Sharone Stein, played by Kerry O'Malley), Bruckner looks like he's dipping more than a toe into the sexual revolution. He's actually evading it with a swan dive into the golden past.

Does all this pan-temporal dramaturgical gerrymandering work? Not entirely. One of Clear Day's many problems, then and now, was a congenital defect: It's a chamber musical trapped in a Broadway extravaganza's body. (Burton Lane's great brocaded musical tapestries obscure this fact, and Doug Besterman's splendid new orchestrations could fill a blimp hangar, but the chorus numbers — along with the chorus itself — are unmistakably extraneous and strained.) Beyond the creaks of the reupholstered book, though, Mayer and book writer Peter Parnell can't quite commit to a full-on bisexual love triangle. (We've finally found something too gay for Broadway!) And the psycho self-seriousness of Dr. Bruckner's plight sits ill with the silliness and camp of the concept, advertised every second by Catherine Zuber's Day-Glo costumes and the general directorial tone of whimsical flimsiness. But there's much to applaud here. Connick, one of Broadway's best accredited heterosexual leading men thanks to The Pajama Game, toys boldly with his image and gives a performance that's emotionally generous, if physically stiff. (He wears his character's wariness, and his own, like the blocky double-breasted suit he's dressed in onstage.) Personally, I've always found Connick's "intensity" a little too stagey and too determined. He seems to lock in the same expression every time a song or a major beat approaches: dreamboat-eyes strategically hooded, pensive forelock down, as if he's bracing for a sack. But that caramel baritone is awfully hard to argue with, and Connick is in great voice on such semi-lost Burton Lane masterpieces as "She Isn't You" (updated from "She Wasn't You").
Meanwhile, Mueller combines period vocal technique with natural, uninflected charisma and an onstage relaxation not often seen outside of Chi-town. Her voice contains notes of Garland, but she's no diva — this is a star of supreme self-possession, one who doesn't need to blind us to impress us. As her unwilling vessel, David Turner performs a neat trick: He infuses the stereotype of a certain subgenus of gay male — the Barbra-channeling drama queen — with several layers of subliminal irony. (This helps when he's negotiating lyrics that Lerner seems to have written on helium. You try finding the proper interpretation for "RSVP peonies, pollinate the breeze / Make the queen of bees hot as brandy / Come give at least-a / preview of East-a.") My opinions on Turner can't be trusted — I've worked with him in the past, and consider him a friend — but suffice it to say I liked him as much as the harrumphing old grump behind me did not. I sensed more than a little generational drift there. Clear Day is a mutant, but it's a beautiful mutant, and the kind of mistake I'd like to see made again and again.