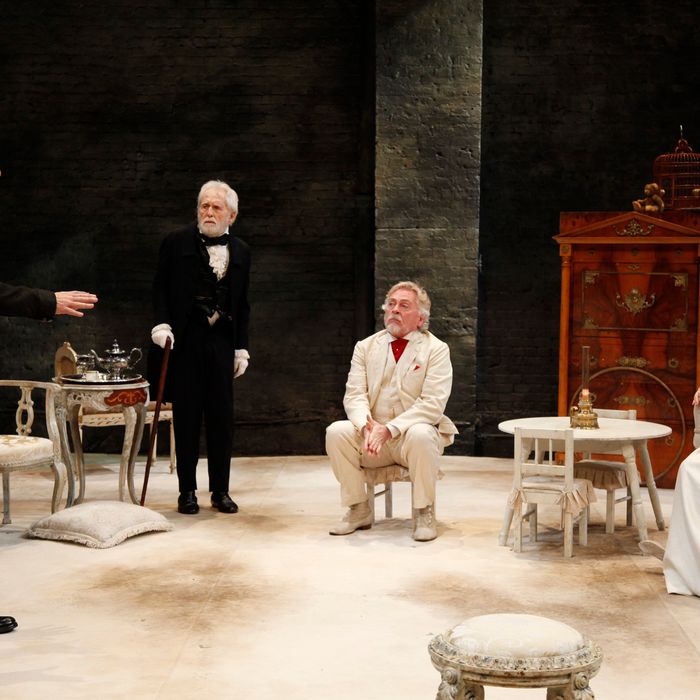 John Turturro, Alvin Epstein, Daniel Davis, and Dianne Wiest in 'The Cherry Orchard.'
Photo: Carol Rosegg
The Cherry Orchard: Funny ha-ha or funny sob-sob? Chekhov, dying of tuberculosis, thought he'd written a comedy so broad, it was "in places, almost a farce." His director, Konstantin Stanislavski, infamously disagreed and pushed his cast toward austere psychological realism; Chekhov accused Stanislavski of turning his characters "into crybabies." But a century or so on, the Method Man's legacy has, in some ways, prevailed. Despite all its clowns and bumblers, all its improbable entrances and cross-gartered ironies, The Cherry Orchard is too often interpreted as a kind of dreary socioeconomic parable, crepuscular and practically Bergmanesque: the lights and the laughs lowered to half-mast, the chuckles dying in the actors' throats. (It's too often either that, or some airless, steam-heated middle-school dance full of awkward souls either looking straight through each other or impotently staring one another down.) Any escaped guffaws are just the incidental branches you're hitting on the way down to terra firma.


Not so in Andrei Belgrader's one-ring circus of a show, which stars John Turturro in full antic tilt as the upwardly mobile ex-serf Lopakhin and Dianne Wiest as delusional Madame Lyubov Ranevskaya, his former owner, the noblewoman he slavishly reveres but cannot save from her own onrushing irrelevance. Belgrader, salting his show with absurdity, turns his players out to the audience, encouraging direct confrontation and the occasional light molestation. (Watch out, first-row folk, when Charlotta, played by an uproarious Roberta Maxwell, comes your way, brandishing a pickle.) There's more than a glint of postmodern madness in this production's eye: When self-dramatizing Dunyasha (Elisabeth Waterston) announces she's going to faint, she follows through. The ancient valet Fiers (the great Alvin Epstein) is more than a muttering fossil; he's an active, rampant pantaloon fully in charge of his "bits." Lovelorn poseur Epikhodov (Michael Urie) threatens to spaz himself straight into the side gallery. And the cash-poor mendicant landowner Pischik (Ken Cheeseman) isn't just vaguely canine in his manner of trailing after Madame Ranevskaya for scraps: He actually yawns like a dog.
Chekhov is generally titrated at 99 percent repression to one percent expression; Belgrader has practically reversed those proportions. He's aided by an open, romper-room round designed by Santo Loquasto, scattered with toylike set pieces that are all slightly or vastly out of proportion with the performers who use them. Lit like Christmas by James F. Ingalls, the stage is airy and bright, and tyro translator John Christopher Jones's colloquially rendered zingers streak across it like bottle rockets. (Jones, with judicious and mostly invisible cuts, has slimmed the script down to two hours — no small feat.) Belgrader's hotfoot staging, aided by choreography by Orlando Pabotoy, annexes every available square centimeter of space. If the word Chekhov conjures in you a kind of closed-flue claustrophobia, fear not: This is sinus-clearing stuff.

Does all this song and dance still pack an authentic emotional wallop? Absolutely. Turturro and Wiest may be delivering highly stylized, radiantly external performances, but the feelings they're externalizing feel earned from within, never feigned or merely choreographed. Juliet Rylance gives us a rich and tormented Varya, Lyubov's older daughter and custodian of her mother's doomed estate. She and Turturro don't share the sort of Remains of the Day–ish ache Simon Russell Beale and Rebecca Hall exhibited in Sam Mendes's Bridge Project production a few years ago at BAM, but Belgrader's not after Jane Austen, after all. He's after the smashing, crushing, tonally reckless "vaudeville" Chekhov claimed he wrote, and by the look of this, he's found it.
The Cherry Orchard is at the Classic Stage Company through December 23.