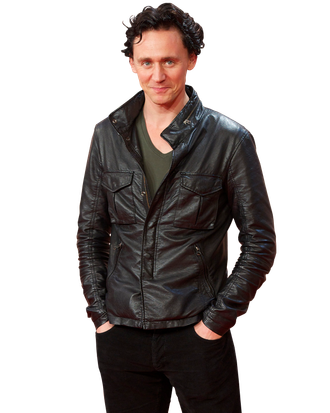 Tom Hiddleston puts the "war" in War Horse. His character, Captain Nicholls, inducts the hero of the story — the horse Joey — into the British cavalry during World War I, just before a disastrous battle, with Allied soldiers on horseback charging with swords against German soldiers armed with machine guns. As it turns out, actor Hiddleston has his own army, an avid fan base devoted to his work playing such characters as F. Scott Fitzgerald in Midnight in Paris and Loki in Thor (and soon, The Avengers). Vulture chatted with the rising star about that devoted following, his possible need for some basketball cheerleaders, and bonding with director Steven Spielberg.
How did you prepare for this role?
I filled myself up on horse films. I watched Seabiscuit, The Horse Whisperer, Charge of the Light Brigade, Waterloo …
You forgot one very important horse story.
[Laughs.] Which one?
After all this time you've spent with Joss Whedon on The Avengers, what about Bad Horse, from Dr. Horrible?
Oh, yes! [Laughs.] I'm so sorry! It's so funny. I completely missed that at first. Now that you've said it, yes. I've been so completely in my War Horse gear that I forgot about all the evil ones. And what about the eight-legged ones, like Sleipnir from Thor? There's a whole bunch of different horses in my life. [Laughs.] He's a genius, though. Let it be known on public record that Joss Whedon is a genius. Firefly is incredible.
Firefly has the Browncoats. You have the Hiddlestoners.
I'm so ashamed! [Laughs.] No, I'm flattered. They're amazing. The Hiddlestoners are an extraordinary group of people.
Apparently if they're really excited about something, they have "Hiddleboners."
[Laughs.] A Hiddleboner is something that happens to you if you're a Hiddlestoner. That's kind of amazing, isn't it? They're very articulate, very creative. Listen, I get letters from some of the Hiddlestoners, and it's some of the most articulate, eloquent writing I've ever read. I should be so lucky that I have an army of followers. My goodness.
If only you had a use for them. Maybe Loki can borrow them, since he's going to need some help in The Avengers.
He does, yeah. He needs to take over the world.
Who's going to be in Loki's army?
It's a whole bunch of Storm Troopers. [Grins.] Otherwise, why are they at Comic-Con? Honestly, why? I don't know. Who else could Loki's army consist of? Wouldn't it be fun if they were basketball cheerleaders? I think that would be awesome. I think that's really kind of Loki's speed.
So what's the connection between Thor and War Horse? You had someone in common with Steven Spielberg, which helped him cast you.
Vic Armstrong is one of the greatest trainers in the business. He was Christopher Reeve's stuntman in Superman, he was Harrison Ford's stuntman in Indiana Jones, and he choreographed many of the greatest stunts in the James Bond films. He's now a second-unit director in his own right. He's also a prodigiously talented, gifted horseman, who taught Kenneth Branagh how to ride for Henry V. And so Ken employed Vic as a second-unit director on Thor, and Vic's family, the Armstrongs, were all employed for stunt work. Vic's daughter Georgie is now a stuntwoman and a horse master on films. She's the horse go-to girl. And she taught me how to ride on Thor — remember the riding across the rainbow bridge right at the beginning? We shot that at the end on a beach in Southern California, and they sort of projected the depths of the Nine Realms and the beautiful vistas of space and the cosmos behind us, using CGI. So I learned to ride with Georgie up and down dry riverbeds in Simi Valley.
So when I met Steven for this film, he asked me, "Do you ride?" And I said, "I've been riding a lot, actually, because I'm doing some riding on Thor. Georgie Armstrong's teaching me." He got all excited: "Georgie Armstrong?! What? She's in Empire of the Sun!" I was like, "Yeah, Vic's daughter. He's second-unit director on Thor." And he goes, "Vic was Harrison's stunt double!" So we were off to the races — he had a Hiddleboner and we started working together. [Laughs.]
You had a code name for The Avengers while it was in production: Group Hug. Any code name for War Horse?
It was called Dartmoor, which is just really simple, because a lot of it was shot there. Not quite the same as Group Hug, is it? [Grins.] Group Hug is all Joss. That's his sense of humor, that The Avengers film is one conflicted group hug. But that's what this one was called: Dartmoor. It's really beautiful, one of those areas of the world that has astounding natural beauty.
So will you be shooting either A Winter's Tale or the Jim Jarmusch vampire movie next?
Both are like spinning plates — there's nothing solid on either. But I'm crossing my fingers that they happen. I'd love to be a vampire. It'd be lovely to be a vampire, wouldn't it? You'd get to be ancient and eternal, a creature of the night. And vampires get away with murder, quite literally.
With War Horse and Midnight in Paris, you're bound to be getting some Oscar love.
Midnight in Paris is just such a lovely film; it's nice if it gets any attention. Nobody sets out to make a bad film, and the awards are just a lovely way of saying, "We enjoyed that one." If that happens, I welcome it, but I'm not counting my chickens — or my horses.