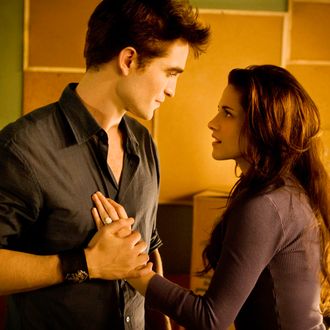 Courtesy of Summit Entertainment.
Photo: Andrew Cooper/Summit Entertainment, LLC.
With no new movies opening, this weekend looks to be one of the lowest-grossing for the box office this year. No real competitors also means Twilight: Breaking Dawn, Part 1 is still tops for the third weekend in a row. Its cumulative earnings so far are already pushing up against a quarter of a billion. The Muppets' relatively strong opening last weekend doesn't seem to have too much staying power, as their gross is down 77 percent, although an uptick closer to Christmas may not be all that surprising. Hugo (in 3-D) and Arthur Christmas (animated) round out the top four, suggesting that the median viewer age right now must be somewhere around 12. Warner Bros.' Happy Feet 2 seems the big loser of the moment, barely raking in $50 million in its first month, not even close to offsetting its $135 million production costs. The Hollywood Reporter's Borys Kit blames this poor showing on the lack of a memorable central character — like Toy Story's Woody — and having to compete with so many other 3-D or animated projects.