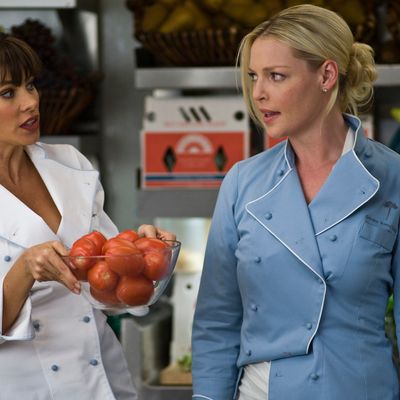 Sofia Vergara with Katherine Heigl in
New Year's Eve
.
Photo: Andrew Schwartz/? 2011 Warner Bros. Entertainment Inc.
In New Year's Eve, the less-than-excellent ensemble comedy out today, Sofia Vergara somehow winds up playing the kooky, man-crazy sidekick to Katherine Heigl's romantic lead. It's a standard rom-com role, a supporting position reserved for many a talented but underappreciated actress, but it's not the only cliche that Vergara is saddled with in the movie. If you are familiar with the Colombian-born actress, you know that she has quite the accent. If you are familiar with Modern Family, you know that the show builds almost all of Vergara's plotlines around this accent, or around Vergara's exotic foreignness, as evidenced by the accent. New Year's Eve takes the same approach, feeding Vergara translation jokes and scream-y lines about how things are done "in [her] coooouuntry." Sofia can scream with the best of them, but the one-note jokes are becoming a worrying trend. So to help her avoid the "Charo Path" (a.k.a. a career defined by sexy outfits and Spanish-tinged catchphrases), Vulture has come up with some helpful career suggestions for Sofia Vergara.
1. Buddy up with Woody Allen.
It seems a bit unnatural for a funny gal like Vergara to jump straight into serious drama, but if she were to take on a more respectable comedy role — something with a little cache — then directors might start thinking of her beyond the Spanglish jokes. This is obviously a job for Woody Allen, who has already demonstrated the ability to turn crazed, heavily accented performances into Oscar gold. Think Penélope!
2. Speaking of Penélope Cruz, do a movie with her.
Just get next to that woman. Her equally pronounced accent will make Vergara's less remarkable, and a little Penélope Cruz never hurt anyone. Success by association!
3. Develop a really killer other accent — like Russian or Boston.
A "Funny or Die" skit with Sofia Vergara screaming in her native accent: predictable and unhelpful. A "Funny or Die" skit with Sofia Vergara making vile threats in her best Southie accent: unexpected, and a way of turning the problem into a solution. (Look! She can do other things!) It also goes without saying that Sofia Vergara doing a Boston accent would be hilarious, so we're fine with this just for the laughs.
4. Demand one demure outfit per movie.
We're not saying that Sofia should totally cover up her other gifts — she should most definitely not — but maybe a little restraint on the part of the costume department would shift the focus back to Sofia's acting.
5. Unlearn the words "in my country."
Stop saying them. This is your country now, Sofia Vergara!