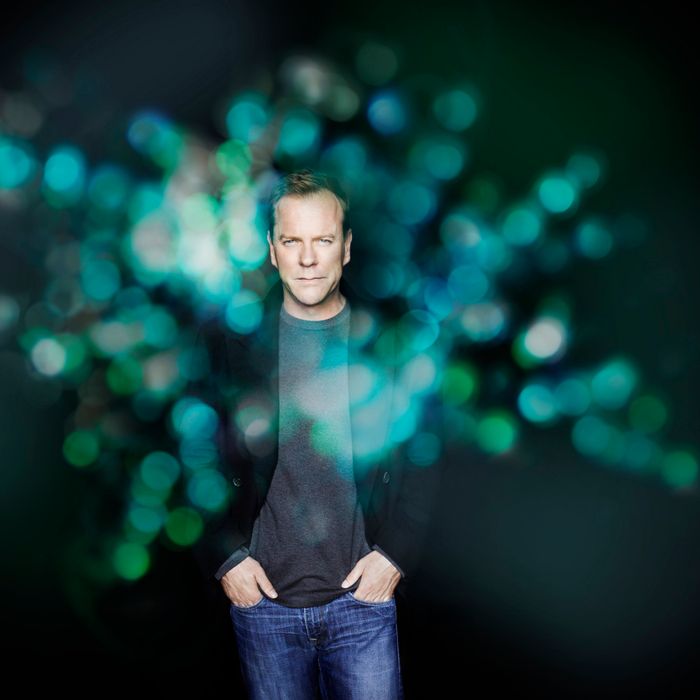 You may be dreaming of a White Christmas (or, at least, an iPad 2 for the holidays), but network execs have visions of much better ratings dancing around in their heads. Between now and the New Year, they'll schluff off the failures of the fall and get ready to unveil another new batch of programming. The nets have actually saved some of their most promising series for the second half of the season: Smash and Awake on NBC, The River on ABC, and Touch over at Fox. And in 2012, we'll also get to witness a musical smackdown between American Idol and The Voice, not in head-to-head time slot competition, but in the battle to dominate the pop-culture conversation (about singing competition shows). Get the skinny on all the midseason TV — what new shows are coming up, where they fit in, and how they'll impact the network's position — ahead.


ABC
What's in the pipeline: Celebrity Wife Swap, The River, GCB, Work It, Missing, Winter Wipeout, Shark Tank, Dancing with the Stars, The Bachelor
What's on the bench: Cougar Town, Pan Am, Don't Trust the B—- in Apt. 23, Scandal, Secret Millionaire
Key scheduling moves: ABC's messiest night is Tuesdays, where a good chunk of the lineup will be scrambled. At 8:30, Man Up! is being replaced by cross-dressing comedy Work It (which really deserves its own exclamation point, no?), while 9 p.m. will feature no fewer than three shows over three months: Celebrity Wife Swap, The River, and Dancing with the Stars. ABC brings back Wipeout as an 8 p.m. sacrifice to American Idol while Shark Tank gets one more chance to break out on Fridays. Sundays, the network hopes the sudsy GCB will be the Desperate Housewives replacement that Pan Am wasn't. Oh, and for those of you still paying attention, The Bachelor is once again occupying ABC's Monday night lineup from January until March.
Best hope for a breakout: The River has potential, a water-based, serialized Blair Witch Project, but ABC did the show no favors by slotting it Tuesdays at 9 behind WTF comedy Work It. (Though ABC's early marketing of the show has been spooky and effective.) That leaves GCB (briefly known as Good Christian Bitches) as ABC's best-positioned potential midseason hit. Revenge has proven there's an audience for soaps, and GCB has tons of campy fun that could prove to be a perfect alternative to the aging CSI: Miami and Donald Trump's fading Apprentice franchise.
Biggest potential pitfall: Well, if there's a TV god, Work It will prove to be a massive bomb. ABC's biggest headache this winter might actually come from those shows not currently scheduled. The network had a much better fall than most observers (perhaps even some inside ABC) predicted. Revenge was considered the longest of long shots (soaps haven't done well in recent years), while Once Upon a Time was a serious dice-roll. This good news makes scheduling the crap-load of shows it ordered last May a bit tougher. The Shonda Rhimes drama Scandal and new comedy Apt. 23 are currently homeless; returning successes Cougar Town and Secret Millionaire are also similarly up in the air. We'd like to see ABC get creative, perhaps replacing the so-so Body of Proof with an adult block of comedies Tuesdays at 10, resting Revenge for a few months to test out Scandal, or maybe even saving some shows for summer (and really promoting them, rather than just burning them off).
NBC
What's in the pipeline: Smash, The Voice, 30 Rock, Who Do You Think You Are, Fear Factor,  Are You There, Chelsea, The Firm, Fashion Star, Celebrity Apprentice, Who's Still Standing
What's on the bench: Community, Awake, Bent, Best Friends Forever, Betty White's Off Their Rockers
Key scheduling moves: Every single night of the Peacock's lineup (save Saturdays) gets at least one new hour of programming between now and March. The only night that really matters, however, is Mondays: It's where The Voice will return and where NBC is praying musical soap Smash lives up to its title. Wednesday gets a new 8 p.m comedy block, with the Peacock going all multi-cam with Whitney and Chelsea. Thursdays also find NBC making many changes, with a new 8 p.m. anchor (30 Rock) and 10 p.m. drama (The Firm). Sundays see the return of Crazy Donald and His Island of Celebrity Misfits, plus a relocated Harry's Law. NBC is making so many changes, it's actually moved up some debuts to December: The rebooted Fear Factor returns in a few days, while new game show Who's Still Standing gets a preview at the end of the month. And if we could make a bonus predictive observation: The Biggest Loser took a major tumble this fall, and we're convinced one reason why is because folks are getting tired of having to invest two hours in the franchise each week. If The Voice comes back strong when it returns in February, we would not be shocked to see NBC suddenly slash Loser back to 90 minutes, or even an hour, in order to make room for live Voice results show.
Best hope for a breakout: All eyes will be on Smash: It has a great pilot, a perfect lead-in from The Voice and is lousy with talent both in front of and behind the camera. That said, as ratings for the Tony Awards prove each year, everyday Americans aren't all that into Broadway musicals and the youthful energy that made Glee a hit isn't what this show is about. So the show we actually think might break out is Grimm, which has proven to have a pulse even on the moribund Friday. If NBC decides to move it (and it's already trying it out next Thursday), it has the potential to turn into a solid player. One more backup selection: Up All Night, which shifts to 9:30 p.m. Thursdays. It might not be a perfect fit with The Office, but it deserves the bigger lead-in that show will provide.
Biggest potential pitfall: Viewers were fleeing from Whitney on Thursdays. Relocated to Wednesdays to face off against ABC's far funnier half-hours and Fox's Glee, the NBC comedy will sink like one of the bad jokes it regularly slings.
Fox
What's in the pipeline: Alcatraz, Touch, The Finder, Breaking In, Napoleon Dynamite, Bob's Burgers
What's on the bench: Bones, I Hate My Teenage Daughter
Key scheduling moves: Fox's midseason schedule has been genetically engineered to feel exactly like its fall lineup, but with subtle differences. On Mondays, you still get your House fix and a big, movielike drama; only difference now is that, rather than dinos, it's escaped prisoners in Alcatraz or Keifer Sutherland saving the world again in Touch. Likewise, there's a music competition on Wednesdays and Thursdays (Idol instead of The X Factor), a Bones spinoff in place of Bones proper on Thursdays, and an animated show that's not The Simpsons or a Seth MacFarlane production (Napoleon) on Sundays. Fox midseason: Boring, but brilliant!
Best hope for a breakout: While Touch and Alcatraz are both getting slots on Mondays behind House, it's clear Fox thinks Keifer Sutherland's Touch is its big gun for midseason. The network is taking the unusual step of previewing it behind American Idol in January only to hold its series premiere until March, all in order to spend two months relentlessly hyping it during Idol. If not quite on the same scale, the toon reboot of the movie Napoleon Dynamite may help Fox on Sundays. Allen Gregory has been a whopper of a flop on that evening, hurting ratings for Family Guy and stinking up Fox's entire Sunday lineup. By contrast, we're hearing decent things about Napoleon, which we didn't think much of when we saw snippets of it last May. Our sources insist the show is actually sweet and funny, and if so, it could work in a King of the Hill sort of way.
Biggest potential pitfall: Nobody really cared about Breaking In when it aired last spring, except perhaps for the studio that produces it and some Fox execs. But if it didn't click when it aired behind Idol, we have a hard time imagining it doing all that well with repeats of New Girl as its lead-in.
CBS
What's in the pipeline: Rob!, Undercover Boss
What's on the bench: The 2-2, Rules of Engagement
Key scheduling moves: CBS is so rock solid, it's not really making any.
Best hope for a breakout: Well, CBS only has two new shows planned, and we have yet to see either. We suppose Rob, starring Rob Schneider, could work behind The Big Bang Theory on Thursdays, and The 2-2 does have Robert De Niro as an exec producer. But we're actually more focused on a returning CBS show, fall debut Unforgettable. It hasn't done gangbusters Tuesdays at 10, but it's been consistent (particularly with older viewers) and has even shown some signs of ratings growth. It could very well perk up come spring, particularly since Dancing With the Stars won't be funneling viewers into Body of Proof in January and February. Also, CBS often likes to try out a new reality show in the second half of the season: Undercover Boss and Live to Dance both bowed after January. So far, the network hasn't announced plans for a new unscripted series, but we'd be shocked if it doesn't pull something out of the air reality-wise before the season ends.
Biggest potential pitfall: With only two new shows on offer, there isn't that far to fall.