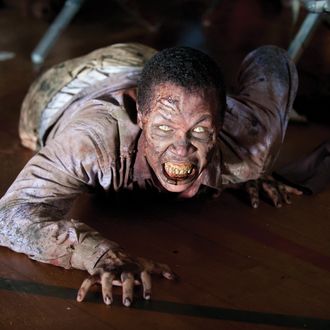 Zombies prefer hardcovers.
Photo: Gene Page/Copyright: AMC 2011
Robert Kirkman's graphic series The Walking Dead, the basis of AMC's often zombie-deficient interpretation, absolutely demolished the New York Times latest bestseller list in both the paperback and hardcover divisions of graphic books. The Walking Dead, Book 1, a collection that contains the series' first 12 issues, holds the top spot for hardcovers; two separate volumes hold the eighth and ninth spots.
Led by The Walking Dead Compendium at the top of the paperback list, additional issues in the zombie apocalypse series also rank third and fourth. "No graphic novel series has ever dominated the list quite like Kirkman's Walking Dead," writes THR. If only AMC's characters would stop waxing poetic about the meaning of life and kill more zombies. At least they finally found Sophia.