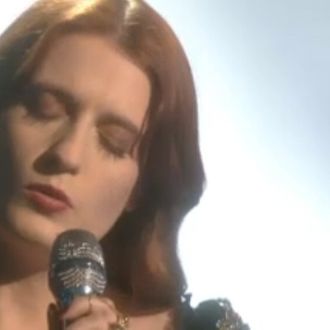 VH1's annual tribute to big-singing ladies went down on Sunday night in New York (if you missed 50 Cent's thoughts on being a diva, please do read them now), but the show itself only aired last night. As is inevitable when you gather Mary J. Blige, Kelly Clarkson, Florence Welch, Jennifer Hudson, Erykah Badu, Jill Scott, Chaka Khan, and Mavis Staples together in a concert hall, big things happened! Kelly, Mary J. and JHud opened the show with a pretty stellar "You Keep Me Hanging On-Spotlight-Real Love-Since U Been Gone" medley, and Erykah Badu wore a crazy cape parka ensemble. Boyz II Men even managed to sneak into the Diva fest with "Motown Philly" (this was presented as some sort of soul tribute, in keeping with the concert's theme, but was really just an excuse to have everyone in the hall sing along to the a cappella breakdown. Everyone loves that part).
The whole show is watchable online, but we'd like to draw your special attention to the two Amy Winehouse tributes that were included in the show. First up: Sharon Jones and Wanda Jackson's "You Know I'm No Good," with a special introduction by Nas, who is really owning his "Me and Mr. Jones" cred these days. Jackson falters a little on her intro, but then Jones brings her back in, and their duet is very sweet in a cool-people-doing-karaoke-together sort of way.
Second: Florence Welch's predictably dramatic "Back to Black."  It's no Amy, but then, what is.