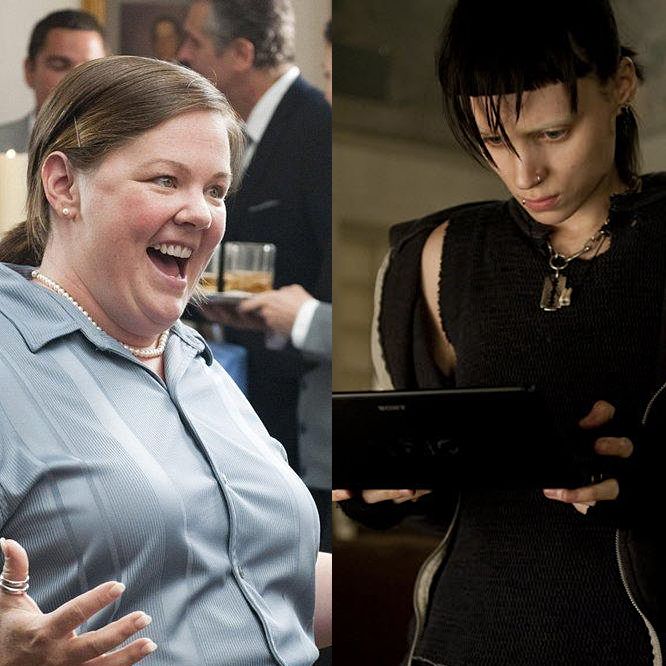 All those kudos that have already come from critics groups (and the nominations yet to come from the Golden Globes, announced tomorrow) may be important during awards season, but when it comes to Oscar precursors, nothing is a more accurate predictor of the final lineup than the Screen Actors Guild nominations, which came out this morning. Actors are the biggest voting bloc within the Academy itself, so their tea leaves are as good as it gets: Last year, in the four major acting categories, the SAG categories matched up five-for-five with Oscar for Supporting Actor and four-for-five in Best Actor, Best Actress, and Best Supporting Actress. Yes, that always leaves room for an eventual dark horse to sneak in, but today's announcement clarifies the Oscar field in the biggest way yet. So who came out ahead, and who has work to do?
WINNERS
Albert Nobbs: Once upon a time, the Glenn Close cross-dressing drama looked like an Oscar sure shot, but reviews weren't rapturous, and critics groups and the Indie Spirits passed over Close. Today, though, both Close and her co-star Janet McTeer found themselves with SAG nominations. Expect it to firm up Close's standing as one of the four Best Actress locks (which also include Viola Davis, Meryl Streep, and Michelle Williams).
Tilda Swinton: As for that much-coveted fifth Best Actress slot? Several women have been in the running for it, including Charlize Theron (Young Adult), Rooney Mara (The Girl With the Dragon Tattoo), Elizabeth Olsen (Martha Marcy May Marlene), and Felicity Jones (Like Crazy), but today, Swinton showed that she may have an edge for the taxing We Need to Talk About Kevin.
J. Edgar: Fading J. Edgar was revived by the SAGs, picking up not just a fairly anticipated Best Actor nomination for Leonardo DiCaprio but also a surprise nod for Armie Hammer in Best Supporting Actor. The latter category is still one of Oscar's most wide open, so a SAG nomination could really help Hammer's chances.
Nick Nolte: Audiences didn't see Warrior, but Nolte's fellow actors did, and his impressively vulnerable performance is resonating. Box office be damned: He's back in contention.
Demián Bichir: It helps to be early in Oscar season, and this year's beneficiary is Demián Bichir, thanks to Summit's decision to send out screeners months ago of the small drama A Better Life. Bichir trumped a lot of bigger names to land in that category, but can he hold on to it?
Bridesmaids: Melissa McCarthy may have moved from dark horse to likely Oscar nominee today. Bridesmaids itself won a SAG Best Ensemble nod, but the real Oscar carryover here is in Supporting Actress, where McCarthy will be battling two actresses from The Help. (And neither has a box office edge: In a funny coincidence, both female-dominated movies have earned $169 million domestically.)

LOSERS
Extremely Loud and Incredibly Close: Did it screen too late? Oscar season's last arrival was nowhere to be found on the SAG sheet, though Max von Sydow and Sandra Bullock are considered to be contenders. 
Rooney Mara: Speaking of late party crashers, the SAGs didn't do anything to boost Rooney Mara's chances in a tough Best Actress category. Still, if the movie does well and is as widely seen as Sony hopes, Mara could be a threat: Only The Help's Viola Davis looks to be nominated for Best Actress for anything resembling a box-office hit.
Shailene Woodley: Another ingénue got lost, too: Though Woodley was recognized by SAG as part of the ensemble cast for The Descendants, she didn't get a Supporting Actress nod of her own.
Young Adult: Charlize Theron and Patton Oswalt are great in the movie, but neither found any traction today. We're kind of okay with that — this appreciably modest black comedy isn't necessarily scaled for awards attention — but we can't imagine Paramount is.
Albert Brooks: Whoa, where's Albert? Everyone assumes he's a lock to get Oscar-nominated for his deliciously out-of-character villain in Drive, and yet the actors' branch didn't come through for him (or for dark horse Drive star Ryan Gosling).
Shame: Michael Fassbender and Carey Mulligan were both shut out by SAG today for their notoriously daring, full-frontal Shame performances. We've thought all along that Fassy is gunning for what we call the "Javier Bardem slot" — i.e. the fifth position that goes to a well-liked actor in a difficult movie, like Bardem in last year's Biutiful — and since Bardem turned a SAG loss into an Oscar gain last year, Fassbender's awards hopes aren't over yet. Still, can't someone give Mulligan some love for one of the most searing performances of the year?