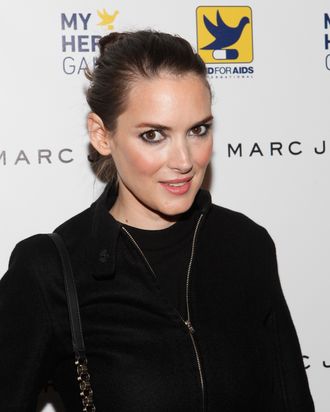 NEW YORK - NOVEMBER 08: Actress Winona Ryder attends the 2011 AID For AIDS International's My Hero gala at Three Sixty on November 8, 2011 in New York City.
Photo: Amy Sussman/Getty Images
Winona Ryder has joined the cast of The Iceman, Deadline reports, alongside Chris Evans and Michael Shannon. Shannon's been set for almost a year now to play the real-life contract killer Richard Kuklinski, and Evans stepped in in November to replace James Franco as Kuklinski's mentor, Robert "Mister Softee" Pronge. Ryder will play Kuklinski's abused wife, who claims not to have known about the more than 100 murders her husband carried out as a mob hit man. Someday, Michael Shannon will play a goofball sweetheart and Ryder will play an empowered go-getter, but until then, we'll all settle for fascinating true stories about scary murderers.