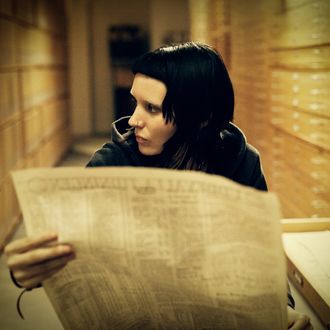 Rooney Mara in
The Girl with the Dragon Tattoo
.
Photo: Anders Lind?n/? 2011 Columbia TriStar Marketing Group, Inc. All Rights Reserved.
Sony announced today that it would move the release date of David Fincher's The Girl With the Dragon Tattoo up one day to Tuesday, December 20. "Fans of the book will be given the perfect opportunity to get a jump start on the release of an exceptional film," explained Jeff Blake, head of Sony Pictures marketing and distribution, in a statement widely released to the media. However, insiders tell Vulture that the real reason for the move is that the studio is concerned about the $125 million film's inability to get more traction with females, who have been largely responsible for making Stieg Larsson's trilogy a global hit in the first place.
To date, Knopf's Vintage Books has sold 18 million copies of The Millennium Trilogy in all formats (with 1.3 million more paperback copies of The Girl With the Dragon Tattoo being shipped as a movie tie-in). While a Vintage spokesman, Russell Perreault, said that the imprint could not furnish Vulture with demographic data about what percent of the Dragon Tattoo readership was female, he did note that on the publishing house's official Dragon Tattoo Facebook page, 71 percent of the 469,000 fans were women. He also noted that on Knopf's official Stieg Larsson Facebook author fan page, some 65 percent of the author's 291,000 fans of the author were female.
And yet those female fans seem to be backing away from Fincher's dark film adaptation, which has so far been racking up stellar reviews. The movie is hardly tracking to be a bomb; the issue is more that by scaring off women, it could be leaving money on the table, or at least in purses and handbags. "It has had a problem with women since it came on tracking," says one former studio marketing chief, referring to audience polling conducted by Nielsen Media's National Research Group. This exec says Sony is concerned that while women are more aware of Fincher's movie than men, they are almost no more likely to want to see it: Fully 83 percent of women over 25 and 79 percent of women under 25 are aware of the film, but only 36 percent of either group of women expressed "definite interest" in seeing it. Men are about five percentage points lower in awareness in both demos, and yet at about the same percentage of definite interest.
While Larsson's books are filled with brutal misogynistic violence, that doesn't make a movie version a reflexive deal-breaker for women. After all, millions of women read the novels, and horror and slasher movies are popular with females. Rather, it is likely the unforgivingly creepy and dark marketing for the movie that has scared off female fans of the book. Says another marketing exec, "Hyper-realistic violence against women is very different from the average horror movie. They're escapist, 'movie-date' oriented. This is different, and I suspect the female numbers [Sony does] have are inflated by title recognition, not actual desire. Do women really want to see a movie like this at this time of year?"
This likely did not give Fincher pause. After the success of The Social Network, the director got final cut of this movie and has an outsized influence on its marketing materials, and he seemingly had no interest in hunting down a mass audience. In an interview earlier this year with the Hollywood Reporter, Fincher explained his sensibility as decidedly outside the mainstream: "I flip through catalogs and don't see anybody who's like me. Flip through a J.C. Penney catalog and you go, 'None of these people hold any of my concerns.' "
To be sure, the marketing of the film reflects Fincher's asocial sensibilities: gray-on-gray posters of the Mohawked femme courageux, Lisbeth Salander. A quick-cutting trailer that's so hip, it barely bothered to name the film it was teasing. Dour TV commercials that, as one insider put it, "do not say, 'Come, all ye who have read this book!'"
A third marketing insider put the film's lack of success with connecting to its female fans this way: "I am surprised by those female [tracking] numbers, but I am not surprised that women don't want to see an ultraviolent David Fincher movie about women being tortured and raped. I think women see these trailers and are being scared shitless away from it." The consensus of marketing solons is that Sony's dark, $125 million gamble will still open — they estimate it's likely to pull in between $40 to 50 million over six days — but that its director's singular vision means it could have done a lot better. This is likely why Sony is moving the movie up; adding one more day will help the film both gather a more impressive opening-weekend number to tout and allow positive word of mouth to spread.
The timing of Tattoo's release, in some ways, could not come at a more competitive or challenging time. Last weekend, box office dipped to its lowest levels in three years. New Line Cinema's release of New Year's Day opened to an anemic $13 million, while Fox Searchlight's Jonah Hill comedy The Sitter underperformed studio expectations by as much as $6 million. "I can't imagine that everyone isn't looking at their tracking numbers and shaving 25 percent off their expected opening weekend gross," said the former studio marketing chief.
Worse, opening just four days before Tattoo is Warner Bros.' blockbuster sequel Sherlock Holmes: A Game of Shadows, which NRG research shows enjoying a level of interest fifteen points higher than Tattoo among older women, and eight points higher among younger women. Sony, which declined to comment, can at least take comfort in the fact that Fincher didn't opt to use Larsson's original Swedish title for his first book, Men Who Hate Women.