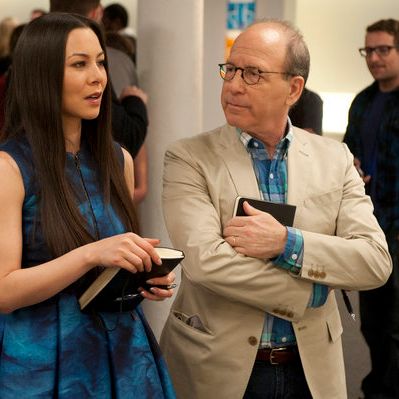 Photo: David Giesbrecht/? Bravo
This week's episode of Work of Art made me believe there is a God. After the Sucklord spent months trying to coax Lola out of her clothes, she's going full Monty for this week's challenge — and he's not here to see it in the flesh. Hah! Praise God!
The challenge this week is for two-person teams to make art that will be sold on the streets of New York. Then they have to show some of it in the gallery. Lola's large photo of herself with real secrets written on the picture's surface is fantastic. She records confessions of jealousy and body shame, masturbation fantasies — the whole nine yards. The irony, power, and magic of this piece is that it works not for what Lola is showing us on the outside but for the intriguing way she's made her body invisible by becoming even more radically vulnerable, showing us what is on the inside. It's something that would shine in any gallery in New York.
The evil minds at Bravo made this episode mirror one of the more horrid but real aspects of the current art world: the equating of price with quality. The winner this week had to be from the team that made the most in the street sales, and the artists were competing for the week's award of $30,000. The only reason Lola didn't win was that she was unluckily paired — with the same artist Sucklord worked with the week he lost. Ah yes, I think. God works in mysterious ways. More on Sarah K. later.
These cash prizes seem to raise a lot of tension. Kymia says her partner Dusty is "freaking me out" with his slow-going deliberation about what to make. Dusty decides to make a T-shirt emblazoned with an illustration of one of the surveillance cameras he has spotted around New York. (All of us later mistook his camera for a printer cartridge.) He also makes a sign displaying a camera/printer cartridge inside a map of the United States. Kymia combines conceptualism with Relational Aesthetics, selling her signature on the street while asking others to give her their autographs. It sounds stupid, but the different handwritten cards have an intimacy and intensity, and the finished piece works well enough. And for some reason, people actually buy the damn things.
Young decides to decorate underpants, which, I now realize, are a recurring theme in his work. His work is colorful and cute but meh. Sara J. really brings it again, this week in captivating watercolors. Then she has the brilliant idea of making portraits of passersby on the street. Next thing we see is a long line of people waiting to have their portraits done. When Simon comes by for the crit, she wisely tells him, "I'm busy right now." He says he wants to buy one. She's got game.
Kymia grouses about Lola: "Big deal — she's nude. I'm not surprised. She's selling out." Hello! Kymia! I mean, all of us are on, ah, a reality-TV game show. I would think accusations of "selling out" might be kept to a minimum. Although Kymia does accurately reflect the judgmental anger that exists in the art world about artists who sell a lot of their work. Which brings us back to Lola, whose stuff is selling like hotcakes. Sarah K., meanwhile, has made cutout Indian headdresses and feathers. She says they're supposed to be penises. Wow, do I not understand women.
I'm shocked to see people buying Dusty's camera-or-is-it-a-cartridge T-shirts, and even Young's fancy underpants. I gotta get into this racket, I think. Sara J.'s watercolor paintings sell best of all. By far. And they should have. Sara and Young do best, making $449. Lola and Sarah K. clear $312. Dusty and Kymia bring up the rear with $281. Since the money-equals-winning rule meant that Lola couldn't get the prize, Sara was the obvious choice.
The loser this week was easy to pick. I think Sarah K. will be a good artist if and when she stops trying to think her way through problems. Her car-seat piece last episode came to her in a flash, and was effective and strong. Many of her efforts, however, have been overthought and underinspired. This was her low point. The money didn't do her in: Her lack of a willingness to leap did. She deserved the loss. I comfort myself thinking that sometimes even reality TV shows how art almost always wins out in the end. Almost. Lola should have had this one.