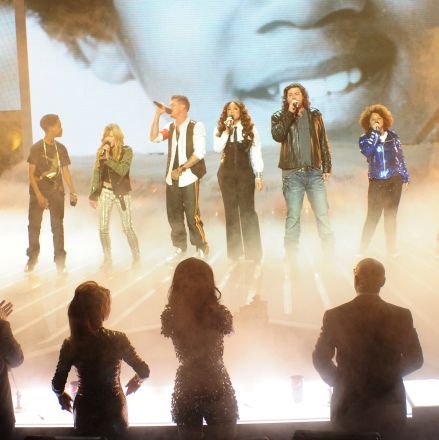 Dave Holmes breathed the very same smoke that the final
X Factor
contestants danced amidst.
Photo: FOX
I was there.
Thanks to the show's PR people, I got to go and see The X Factor in person! Listen, I've been in television for a while, and I am accustomed by now to how much smaller things are in real life. But the set is SO SMALL. It's like a medium-size high school auditorium. But oh, the stars! As I checked in, I saw "CLIVE DAVIS +1" on the PA's audience list. Isn't CLIVE DAVIS +1 an unnecessary thing to have on a clipboard? Isn't that like having "inhale" on your to-do list? Anyway, on my way to my seat, I saw reserved seats for Camille Grammer and Jill Zarin, who I understand are Real Housewives! I feel like I should add more celebrities, so I'm going to make some up: Genie Francis! Kerri Strug! Sinbad! You name them, you would have difficulty proving they weren't there.
That the energy in the room never flags is thanks to indefatigable warm-up comic Bill Sindelar, who shouted so much I went and bought myself some lozenges immediately after the show was over. It's not an easy job, this; you get the sense that he has one of those bombs from Speed attached to his midsection, and if there is a moment that doesn't sound like a soccer riot, he will explode. But the crowd loves him. They also really do bring their own homemade signs, my favorite of which says simply "Chris Rene: Yay."
Today's top hits are played — LOUD — to pump the crowd up. "Dynamite!" "Yeah!" "Yeah x3!" Other songs that employ affirmatives and exclamation points in the titles! The family of four to my right sings along with every word, which is only upsetting when Katy Perry's "E.T." comes on. Have you ever been very close to an 11-year-old boy while he belts out "infect me with your love and fill me with your poison"? I do not recommend it.
Steve Jones, who has apparently been onstage the whole time, introduces the judges. Paula and Nicole wear glittery, complicated shoes that they do not remove in favor of slippers when they're behind the judges' table like I would. Simon alone addresses the crowd: "Just remember the rules: There are no rules." Which, you know, fine, but we have already passed through three security checkpoints and two metal detectors and have surrendered our cell phones. Incidentally, have you been without your cell phone for 90 minutes recently? It's awful.
You know who never acknowledges the live audience even one time? Steve Jones! Barely a wave in our direction. Brother can wear a suit, though, so all is forgiven. And he does inform us that it's DANCE HITS NIGHT! The top five will perform dance hits, accompanied by two beautiful D.J.'s whose turntables are almost certainly not connected to anything.
First up: Melanie Amaro, who is on accent No. 3 and counting. I believe she is now from the Philippines. Her dance hit is Adele's club banger "Someone Like You" which is … what? That's a cheat and we all know it. Her pace and phrasing are still straight ballad; they've just added a lazy house beat to it. Phooey! She does well, of course, but all the robot backup dancers in the world can't make me want to hear this song another time. The crowd loves it. (When you're there in person, "The crowd loves it," like "Clive Davis +1," totally goes without saying. Warm-Up Bill has given the crowd clear instructions to love it, whatever "it" might be.) Melanie goes off again about how much she wants to win and how happy she is and then she cooks some plantains or whatever.
Marcus Canty is up next, with his version of Rufus & Chaka Khan's "Ain't Nobody," which … I guess is a song you might dance to? Marcus has been in the bottom two for two weeks running, and though he does seem to have had a new burst of energy, it's not enough to keep me from losing interest and speculating on who in the crowd is Jill Zarin.
Warm-Up Bill asks a guy in the crowd where he's from, and the guy says "Paso Robles." Bill asks him what that place is famous for, and someone else, from way on the other side of the auditorium, shrieks "WINE! WINE! IT'S WIIIINE!" People are just goosed all the fuck up.
Rachel Crow does BOB's "Nothin' On You," but just the Bruno Mars parts, and this sums her up perfectly: Rachel Crow is a good enough singer to breathe life into the Bruno Mars parts of a song. Plus, she doesn't change the gender! She's still singing to "beautiful girls"! It's very PJ Soles in Rock & Roll High School! And she is the first of tonight's performers to acknowledge the live audience. She shakes hands, she waves, she thanks. This girl is going places. There is troubling talk of her past as a stand-up comic, on which I choose not to dwell.
Josh Krajcik favors us with a deeply uncomfortable version of Rihanna's "We Found Love." He does not dance, he does not make any unnecessary movements. Instead, Nicole has plopped him into the center of Professor Windchild's Modern Dance 201 recital; couples in tights writhe meaningfully around him. It's weird. He is in typically fine voice, but it's a bad fit and it feels like one. Simon says the only remotely critical thing we hear all night, which is that he did not get the dancers, and the crowd — following direct orders from Warm-Up Bill to boo any critical comments — jeers him lustily. "We understood the dance routine," our boos say. "It was about crisis or something!"
Let us pause for a moment and consider what Drew's dance week contribution would have been, and whether it would have required movement, vocal variety, or shoes. It would for sure have been a strange spectacle, and I'm sorry we're denied it.
Last up, Chris Rene, who is still in this competition while Astro is not. Crazy, right? He too takes in the audience's love, and … in person, even though I'm 25 yards away, I get it. He's got kind of a jolie-laide thing going on; he is undeniably sexy, and oh my goodness I hope they are giving him an hour off every day to get to meetings. He does T.I.'s "Live Your Life," replete with a conveyor belt that moves him fifteen feet in either direction for some reason.
There is controversy about the second round of songs! This was supposed to have been the week of the Pepsi Challenge, where the songs were chosen by US THE VIEWERS, but there was some kind of error, so the gang must sing their "Save Me" songs with only 24 hours notice! Steve Jones really could not be more vague about what the glitch might have been, though he does reassure us that we picked some great songs and we'll hear them next week. So … what happened? My guess is that some junior media planner forgot to book the Pepsi CEO's travel or clear the songs. And that poor kid's certain job loss is our gain, if we consider 45 minutes of overwrought ballads a gain.
Melanie does Whitney Houston and Mariah Carey's "When You Believe," a song that is consistently in my top five of things that I forgot happened. It's your standard-issue American Idol performance, though the big Jumbotron doors briefly part to reveal a gospel choir. Then the doors close and the choir stays there for eternity, like the Titans in Immortals.
Marcus performs a slightly annoyingly reworked version of Leon Russell's "A Song for You." You know what song does not benefit from a million runs and y'sees? Leon Russell's "A Song for You." Worst, he tailors the lyrics to suit his particular situation: "When my life is over" becomes "when my time is over," "ten thousand people watching" becomes "ten million people watching," "I love you in a place where there's no space or time" becomes "Jesus God please don't put me in the bottom two again, I want to be in a Pepsi commercial." Wack. But at least there are no backflips.
During the commercial break, either L.A. or Nicole spills a cup of water, and it causes a real commotion in my section. The word travels fast: "Water. They've spilled water." "Where?" "Right there. Right there! They're going to have to wipe that up." "But how?" A PA is dispatched to the scene with a roll of Bounty, and everyone around me calms down, secure in the knowledge that two billionaires will remain unmoistened.
Rachel Crow chooses "Music and Me," and the crowd goes wilder than usual. I will remind you that this is a pro-everybody crowd, but it is mostly a pro-Rachel crowd. There is a girl of maybe 8 years old in front of me with an "I Love Rachel" sign, and the song causes her to vibrate noticeably.
Josh Krajcik does the Beatles' "Something in the Way She Moves," and just Joe Cockers the living shit out of it. For me, the highlight of tonight's show comes during the "I don't know-whoa, I don't know" bridge, when Josh gets what can only be called Crazy Eyes. He looks like he has undergone enhanced interrogation, like someone has said: "We will ask you one last time, before we waterboard you again: WILL YOUR LOVE GROW?" It is bananas and I love it.
And then Chris Rene steals the whole show. His Save Me song is a composition he wrote himself, which I have to assume is called "Where Do We Go From Here" because that's 40 percent of the lyrics. Is it a great song? No, it is not. But he has a lovely, flinty voice, he actually connects with the audience, and it is impossible not to like him. The judges love it. The judges love pretty much everything tonight. Are the judges afraid of Warm-Up Bill too?
After what seems like an eternity of palm-chapping applause, the show ends. The judges and Steve Jones and most of the contestants vanish in a puff of smoke, leaving only Rachel, Chris, and Warm-Up Bill behind to work the crowd. Security has to pull Rachel back from her fans. She is truly America's spunkiest politician.
So there it is. I think Marcus and Josh will end up in the bottom two, and Marcus will finally be sent packing. Most of all, I am mortally exhausted from all the approval I have roared toward the stage, and I want to nap in my car. But then Warm-Up Bill surprises the Rachel fan in front of me with two tickets to the finals and she squeals with joy and my heart grows three sizes and I even carve the roast beast.