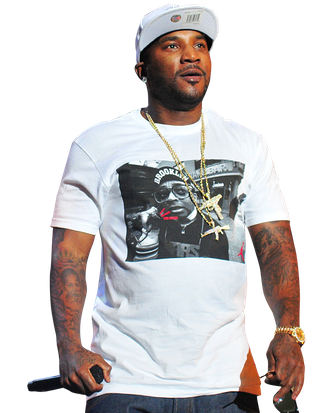 Young Jeezy.
Photo: Prince Williams/Getty Images
Young Jeezy was propelled to the forefront of the hip-hop sociopolitical zeitgeist with 2008's The Recession, a refreshingly tart look at social malaise fueled by the serendipitously timed "My President," which became an unofficial victory anthem for Barack Obama's presidency. Heavy competition and release delays kept a follow-up on perpetual hold, but at long last, Thug Motivation 103: Hustlerz Ambition is here. Trading politicking in for classic braggadocio, TM 103 is a formidable selection of snarling, drug-infested tales interspersed with requisite club bangers and more female-friendly fare like the Jay-Z and André 3000 Über-collaboration "I Do." The rapper known as the Snowman sat down with Vulture to talk about the album and all things from the hood to Hollywood.
The release date of TM 103 has moved around quite a bit over the past few years, but fans have remained remarkably steadfast. In a capricious industry, where do you think this loyalty stems from?
We all the same; we family, we extended family. If you got a cousin, he might not pick you up on time from work, but you know he coming because that's your cousin. My fans are my family, because they understand me and I understand them. They know every day I'm out here striving for them. If they ever needed me anytime, it's now.
Why now?
Because it just feels that way. Music is all about leadership and there ain't really a lot of leaders. A lot of people are following and want to get into that position — everybody wants to be head honcho or the nigga in charge — but that don't mean they have it. The world is a big responsibility. I don't feel that nobody is as dedicated or sacrificed as much as I sacrifice, so it's my job. So I gotta take that shit for real. I don't get up every day and just "do me"; I get up every day and do us.
On 2008's The Recession, you were quite vocal about political issues. And, recently, you mentioned that you felt Obama should focus on jobs and generating money in this economy. Do you view yourself as a politician of sorts?
Politics isn't only about government. Politics is about the people. Like, if you look at the president or your preacher, they motivate you and say, "Everything's going to be all right," and that's what you strive for. When it comes to these streets and these people, they just want me to tell them that "it's going to be all right," "it's going to be good," and they believe me. So when I say politics, that's what I mean. They [the people] want to see me rise up and do what I do and tell them that "we're gonna be all good, just follow me."
On that note, do you empathize with Occupy Wall Street?
We need to occupy the hood, the ghetto. It's not on me to speak on it because it's not really my business, but you know it's all about feeding people. It's about how many people you feed — and not take care of, but how many people you show how to make their own living; teach them a craft so they can do their own thing. 
Actor Samuel L. Jackson narrates a short biopic about you that accompanies the deluxe edition of TM 103. How did that collaboration come about?
Two phone calls, man. Sam Jackson is like the Jeezy of Hollywood: He's for his people. I called him and he got on the phone, we exchanged information …
So you just called him up directly?
Matter of fact, he e-mailed me first. He hollered at me and I hit him back. We chopped it up and his first thing was, "I'm a fan. I love Trap Or Die." But you know, he gets it and he's like me. We both got careers and things that we love, but we get inspired and we want to help [each other] too.
Guinness World Records recently named Sam the "Highest Grossing Actor of All Time." Hopefully his voice-over didn't break the bank for the film.
Nah, nah. I'm really proud of it and it just shows that no matter where you come from, you can be what you want to be. For him to narrate my life … When I was standing on the block when I was younger, I would have never thought that I'd be in the position to have someone speak on me that people respect. He's a talented actor and a real dude. I give him that, all day every day. From time to time, he'll check on me. I got no complaints.
What other celebrities are closet Snowman fans?
I heard Brad Pitt, he rock with me a lot.
Whoa! You should invite him to a concert, along with Angelina and the kids.  
Of course. I don't know if she's a fan, but I know he is for a fact.