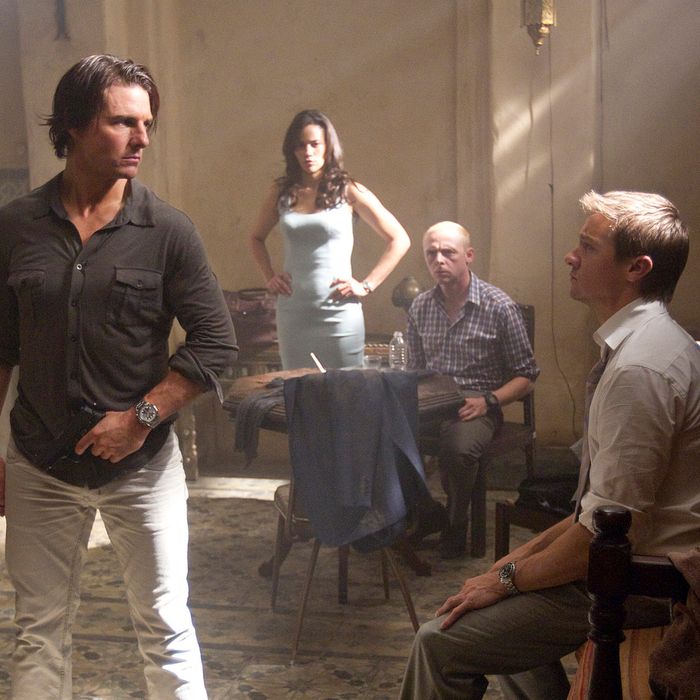 Photo: David James/Paramount Pictures
This Weekend's Winners: Mission: Impossible - Ghost Protocol proved that bigger is better, and that less is more: It made $13 million from only 425 IMAX theaters and other large-format screens, compared with the whopping 3,700 locations that the other two films opening this past weekend, Sherlock Holmes and Alvin and the Chipmunks, each commanded.
This Weekend's Losers:  Both of the over-long titles Sherlock Holmes: A Game of Shadows ($40 million) and Alvin and the Chipmunks: Chipwrecked ($23.5 million) opened way below their progenitors. In the case of the high-pitched rodents, what we'll term The Weak-quel made less than half that of 2009's The Squeakquel.
How It All Went Down: The box-office story of the weekend is, by far, Paramount's decision to open Ghost Protocol in far more costly IMAX theaters before going wide. "It's never been done, and I don't think anyone really knows what their results mean," said one high-level exec at a rival studio, who also speculated aloud that Warner Bros.' release of the six-minute-long Dark Knight prologue (since leaked online) playing in front of Mission may have, ironically, dinged another Warner Bros. release, Sherlock Holmes.
Unfurled at only 40-something IMAX locations, the Dark featurette was likely not enough to tip the scales wildly in favor of Mission: Impossible, but it certainly didn't help matters for Holmes, which had a per-screen average of just over $10,000 — three times lower than that of Tom Cruise's return to form, which weighed in with more than $30,000 per screen. "Sure, it has a big screen average," notes our exec about Cruise's flick, "but it is a $200 million movie; it better have the best per-screen average in [just] 425 theaters."
Meanwhile, the failure to launch of the usually reliable Chipmunks franchise is troubling, perhaps because it says as much about the economy as it does about what could be a rising tide of dislike for easy knockoffs. In recent days, retail sales have shown the potential for double-digit increases this Christmas season, fueled by strong consumer spending thus far. But does more generous gift-giving mean that the box office gets coal in its stockings?
Perhaps, but quality is an issue here. Family films may not be review-driven, but our executive suite studio spy notes, "I do think that parents look at reviews, and when you are staring at 13 percent positive reviews [on RottenTomatoes.com] for Alvin, you can very easily find something else to do with your time." (Indeed, aggregator Metacritic also lists the first Chipmunks film in the high 30s and the 2009  sequel in the low 40s; Chipwrecked barely clears the mid-20s.)
Finally, we'd kind of hoped the acid-tongued, macabre comedy Young Adult could win over audiences much like director Jason Reitman's Up in the Air, but even though it added some 978 theaters this past weekend, its per-screen average was less than $4,000, which is paltry. Says our spy, simply, "The filmmaker's desire to tell a story about an irredeemable person, from beginning to end, is not connecting with audiences."