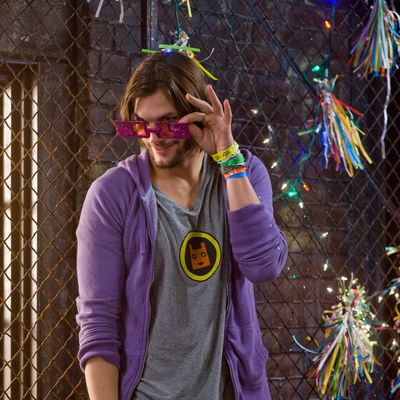 Photo: Andrew Schwartz/Warner Bros. Entertainment Inc.
This Weekend's Winners: Twilight: Breaking Dawn, Part One ($7.9 million), the third-highest-grossing movie of the weekend, became the third-highest-grossing movie of the year. Meanwhile, Tinker, Tailor, Soldier, Spy debuted in just four theaters and grossed a little more $300,000, making it the third-highest limited debut of 2011.
This Weekend's Losers: Both newcomers – New Year's Eve ($13.7 million) and The Sitter ($10 million) – significantly underperformed expectations: Eve grossed 75 percent less than the confection that spawned it last February, Valentine's Day, while The Sitter grossed at least $2 million less than its own studio was expecting. Also in trouble: Hugo ($6.1 million). Despite adding more than 750 theaters this past weekend, the Martin Scorsese film was still down by almost 20 percent. Overall, box office is now around the lowest point since September 2008.
How It All Went Down:  Tinseltown has long tried to romanticize standing like cattle ankle-deep in the trash and icy slush of Times Square on December 31, but audiences were not interested this time around. The reviews were terrible (especially from Gotham papers. The Village Voice proclaimed it "so excruciating that it makes its predecessor, Valentine's Day, seem like Nashville in comparison"), but the drop-off compared to Valentine's Day was more likely caused by a lower-wattage cast (director Garry Marshall is sans Julia Roberts this go 'round) and a moviegoing public now hip to the fact that the big stars they came to see last time were barely there to begin with.
Meanwhile, Jonah Hill failed to stand on his own in The Sitter, essentially a raunched-up version of the now-classic Adventures in Babysitting. This might have been the problem in and of itself, as Chris Coloumbus's 1987 prototype starring Elizabeth Shue was rated PG-13. Is it possible that the very audience at which The Sitter should have been aimed couldn't get in to see it? It's also the first time that Hill has had to carry an entire picture on his own. Doing so with a hard-R picture might not have been the easiest at-bat for the Moneyball co-star.
We also have to wonder if Jason Reitman's Young Adult will suffer a similar fate: The black comedy opened in twice as many theaters as Tinker but grossed about the same amount. Next weekend it expands to 1,000 theaters, but the latest NRG numbers suggest it isn't doing well with, you know, young adults: Only one in three males under 25 are aware of the movie, and only a little over one in four — 27 percent — are interested in seeing it. With younger women, things aren't much better: 39 percent of women under 25 have heard of it, but again, only fewer than one in four — 24% — expressed definite interest.
Finally, let's just take a moment amid all the breathless coverage of The Muppets to point out that with the $7 million it hauled last weekend, its $65 million gross technically out-performed every Muppets film in the history of the franchise. Though, adjusted for inflation, 1979's The Muppet Movie grossed $203 million in 2011 dollars; now, that's some frog legs.