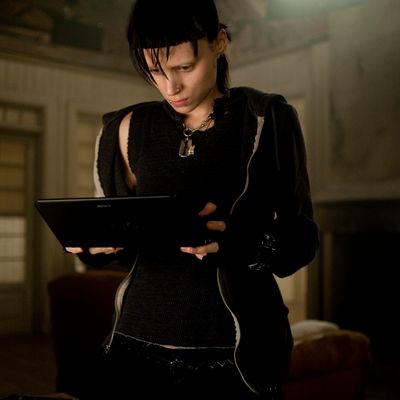 Photo: Merrick Morton/Columbia TriStar Marketing Group, Inc.
This Weekend's Winners: During a very odd week where some movies opened on Wednesday, some on Friday, and even a few on Sunday, one thing was clear: Mission: Impossible - Ghost Protocol has got legs. The Tom Cruise comeback vehicle expanded into wide release after a notable IMAX preview last week, pulling in $46.2 million over the four-day Christmas holiday weekend. (Expect it to surpass the $134 million gross of the previous M:I not long into the New Year.) Meanwhile, War Horse galloped out of the gates on Sunday, its first day of release, and pulled in $15 million by this morning.
This Weekend's Losers: It wasn't pretty for the rest of this weekend's eclectic bunch. Spielberg's other movie, The Adventures of Tintin, opened at a middling fifth place and couldn't even trump the second weekend of Alvin and the Chipmunks: Chipwrecked. It's a good thing that We Bought a Zoo could add Monday to its weekend totals, because otherwise, Fox would have had to answer for the ignominy of opening a Matt Damon movie to less than $10 million. (Monday's family friendly crowd elevated those grosses to $15.6 million.) And The Darkest Hour was nearly as invisible as its villains, earning $5.5 million.
How It All Went Down: The fact that Christmas fell on a Sunday threw a wrench into the box office this past weekend, since it depressed moviegoing levels on Saturday as audiences stayed in for Christmas Eve. Even so, some big studio hopes underperformed.
Neither hit nor bomb was The Girl With the Dragon Tattoo, David Fincher's English-language crack at Stieg Larsson's famous novel. Over the four-day weekend, it brought in $19.4 million (it had already opened on Wednesday), which is certainly a good number for a hard-R drama about rape, incest, and facial piercings. Still, with so many triple-A elements in play here — a top-tier director, a famous male lead, and a literary phenomenon as source material — it's clear that Sony was hoping for more. Dragon won't be an out-of-the-box hit, but will it make enough over the long haul to justify green-lighting its two sequels?
Don't cry for Tintin: It's a monster hit overseas, where audiences are more familiar with the classic comic character. Still, it's notable that so much of the family fare this season — from The Muppets to Arthur Christmas to Hugo — has had trouble breaking out of the pack. (The latter two films are still struggling to hit $50 million.) Even the Chipmunks sequel is running well behind the previous two installments. Tintin did nearly all of its business in 3-D theaters, but a family excursion at those higher ticket prices may cause parents to think twice.
In more limited release, Extremely Loud and Incredibly Close opened on Christmas in only six theaters (the wide push comes in late January) to a promising $137,000. Opening in half those theaters — but two days earlier — Angelina Jolie's tough In the Land of Blood and Honey managed just $27,800.