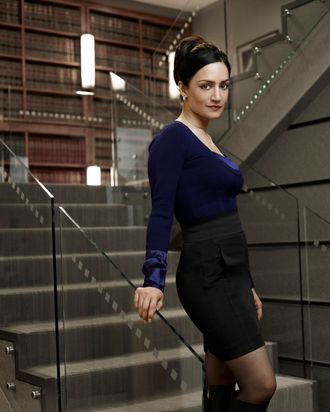 THE GOOD WIFE–Archie Panjabi as Kalinda Sherma on the CBS drama THE GOOD WIFE scheduled to air on the CBS Television Network. Photo: Justin Stephens/CBS.
Photo: Justin Stephens/CBS
NBC's developing a Dwight Schrute Office spinoff, which is odd but not incomprehensible — he's a concrete character with a specific outlook, and he could plausibly inhabit a universe orthogonal to his origin show. Is he the only one, though? Are there other spinoff-worthy characters on television? Kalinda on The Good Wife could easily sustain her own series — investigations, jazzy bisexual encounters, leather jackets — and Blake Shelton could break off from The Voice for his own Voice-branded talent search. Whom would you spin off? A great character trapped in a lousy show — like Lafayette on True Blood? A silly character who never gets enough screen time? Brendanaquitz?