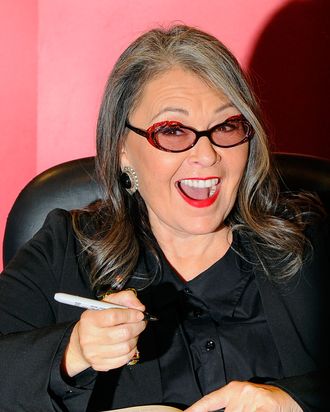 Photo: Andrew H. Walker/2011 Getty Images
We may be ready to forgive NBC for Whitney. Late Monday evening, the network gave formal pilot orders to 10 projects in consideration for the 2012-13 lineup, and while it's early, there are a lot of interesting names attached (Roseanne Barr! Greg Daniels! Jason Katims! Jimmy Fallon) and some interesting concepts on deck. Eight of the 10 pickups were on the comedy side, including the previously reported Barr half-hour Downwardly Mobile and the Daniels-penned adaptation of the UK's Friday Night Dinner.
In addition to Barr and Daniels, NBC's comedy greenlights today included a multi-camera half hour from writer/exec producer Charlie Grandy (The Office, Saturday Night Live) that revolves around three dudes in their 30s trying to make the transition to fatherhood. Because a certain late-night host is exec producing, NBC is calling this the Untitled Jimmy Fallon Project, even though it's really Grandy's show. The Peacock also gave thumbs up to Animal Kingdom, a single-cam half-hour about a vet who loves animals, but isn't so keen on their owners. The concept sounds interesting, though fair warning: The show's writers helped pen The Sitter, while its exec producer was behind The Hangover Part II.
Also cooking at NBC: Go On, a single-camera comedy from Friends alum Scott Silveri that focuses on a grieving sportscaster who's now enrolled in group therapy (shades of The Bob Newhart Show?) and Next Caller Please, a single-camera show about a very manly DJ and his feminist co-host. After a season in which strong female characters broke out, NBC is supplementing the Barr show with Daddy's Girl (young woman finds her dad is now dating her "mean girl" rival from high school) and an untitled half-hour from scribe Hilary Winston (Community, Happy Endings) about a shy woman who plots revenge after being dumped by her fiance. (It sounds a lot like Winston's recent memoir My Boyfriend Wrote a Book About Me). Meanwhile, on the drama side, Friday Night Lights showrunner Katims is teaming with Jason Ritter for the ER-esque hospital drama County while Law & Order overlord Dick Wolf is ready to dump New York for Chicago Fire.