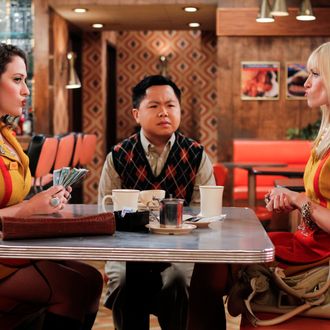 Photo: CLIFF LIPSON/?2011 CBS Broadcasting, Inc. All Rights Reserved.
NBC boss Bob Greenblatt last week admitted his network had an awful fall. CBS is currently the No. 1 network in overall viewers, which is why its entertainment division chief, Nina Tassler, was able to creditably tell reporters today that the Eye "had a phenomenal" fall launch. She didn't make any news, however, during her session at the winter edition of the TV Critics Association press tour: No shows were canceled or renewed, and she didn't even have a premiere date for CBS midseason drama NY 22 ("late spring" is about as specific as she'd get). Tassler did say she was happy with how The Good Wife is performing in its new Sunday time slot and she promised 2 Broke Girls showrunner Michael Patrick King would continue to "dimensionalize" the supporting (read: incredibly stereotypical and unfunny) characters on the show.
She also had some very funny quips ready for those uncomfortable with the genital jokes on the Eye Monday comedies ("Vagina is not indecent," she correctly noted) and those critics who are already starting to skewer new half-hour Rob ("It's not Downton Abbey," she zinged).