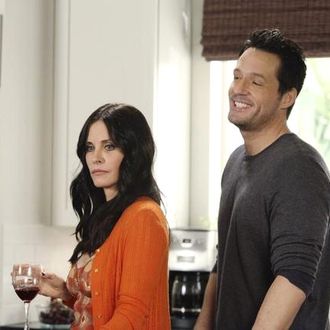 Photo: Danny Feld/? 2011 American Broadcasting Companies, Inc. All rights reserved.
Speaking at the network's portion of the semi-annual Television Critics Association press tour, ABC boss Paul Lew announced premiere dates for two midseason series, but still wan't ready to say exactly when Cougar Town will be back. The New Girl–esque Don't Trust the B—- in Apt. 23 (yes, that's the non-bitchy title of the show now) is getting the primo 9:30 p.m. Wednesday time slot following Modern Family and will bow April 11. Shonda Rhimes's Scandal, meanwhile, will get to follow Rhimes's Grey's Anatomy Thursdays at 10, beginning April 5. As for CT, ABC boss Paul Lee said Tuesday that he has "an idea of where" the show will end up but that it will likely be a few weeks before the network announces said date. He wouldn't comment on whether CT might replace Work It, but he did promise the show would get a big promotional push when it does come back. "We'll bring a big, strong message that we love the show," he said. And finally, look for Private Practice to air four episodes Tuesdays at 10 p.m. starting in April. "We want to see how it does outside of the [Grey's] universe," Lee said.
Lee also offered a glimmer of hope to fans of Pan Am and defended his right to Work It (though he didn't seem particularly ecstatic about the cross-dressing comedy's premiere ratings). Lee's overall message to reporters: ABC had a great fall, its Wednesday lineup has become "a destination for our audiences and our advertisers" and the network has several shows he believes are both "sticky," "sexy" or "more-ish."

Wednesday soap Revenge fits all three of those categories, Lee said, and offered up a possible spoiler about the show's future: The exec said it's possible the show will wrap up its very, very long summer in May and then move on to a different location come season two. (Lee didn't officially renew Revenge, but he talked as if it was a done deal).  Lee is also still sticking by Pan Am, noting episodes wil air through next month and insisting no decision has been made about its future. And while critics have been brutal in their assessment of Work It, Lee didn't get pressed too hard about the show. He repeated previous statements saying he ordered the show in part because he was a fan of Tootsie and said the show's debut ratings weren't great but not worthy of immediate cancellation.