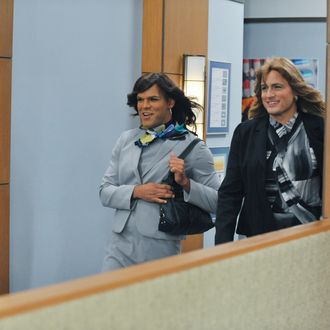 Courtesy of ABC.
Photo: Eric McCandless/ABC
Shocker of the decade: ABC's much-criticzed new show Work It, about a pair of unemployed men who seem convinced that women have a leg up in the workplace and so squeeze their bulky torsos into blouses and skirts, just got canned. This comes after just two episodes, a pretty lousy debut, and an even more disappointing follow-up episode. (20 percent of the original audience decided they didn't need to come back for seconds.) Not surprisingly, the show, created by two Friends alums, was immediately targeted by leading gay-rights advocacy groups who may, ultimately, have had less to do with the show's failure than its obviously lacking conceit. But just last week (before the announcement), ABC Entertainment boss Paul Lee told reporters how confused he still was by all the brouhaha.
I didn't really get it. I loved Tootsie. I still love Tootsie. I didn't get it. But that's probably me.
In his own defense, he claimed the network "thought there was room for a very very very silly show." Yeah, there probably needed to be like four more verys in there.