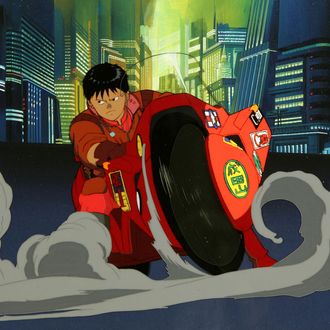 "ANIME! High Art - Pop Culture," a multimedia exhibition spotlighting the art of Japanese animation featuring nearly 400 cels, clips and character models from such popular anime movies and series as "Akira," "Dragon Ball-Z," "Ghost in the Shell," "Pokemon: The First Movie," "Princess Mononoke," "Sailor Moon" and "Yu-Gi-Oh!," will make its U.S. premiere at the Academy of Motion Picture Arts and Sciences when it opens to the public on Friday, May 15, in the Grand Lobby and Fourth Floor galleries in Beverly Hills. Admission is free. Pictured: AKIRA, Director: Otomo Katsuhiro, J 1988 (Cel). Collection of Mike and Jeanne Glad.
Photo: TMS Entertainment
That mind-boggling $230 million budget for Warner Bros.' live-action remake is a thing of the past (it's down to $90 million — a drop in the bucket!), but apparently the studio still has financial concerns. Production has shut down on Akira "in the face of casting and budgetary issues," and unless script issues can be worked out, sources say the project could be called off for good. The new Akira has had no shortage of troubles. The movie is on its second director (Jaume Collet-Serra, traded in for Albert Hughes) and casting is still uncertain (Garrett Hedlund and Gary Oldman are onboard; Kristen Stewart, Ken Wantabe, and Helena Bonham Carter were among the actors in negotiations before the shutdown.) Everyone's been sent home in the meantime. Not promising!