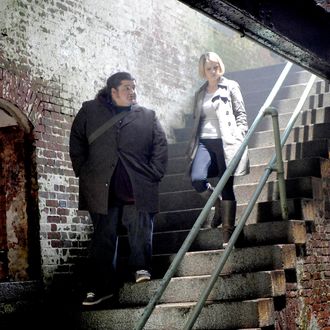 Photo: James Dittiger/FOX
Fox's J.J. Abrams–produced prison drama Alcatraz drew solid ratings with its two-hour Monday debut, averaging 10 million viewers and a 3.3 rating with those under 50. This is about 10 percent higher than the Monday night fall bow of Terra Nova, which was widely labeled a mild disappointment by the media and Fox's rivals. But Alcatraz is likely to be seen as having gotten off to a much better start, thanks to significantly lower expectations (and production budget) for the Abrams show, as well as the fact that it placed second for the night among viewers under 50 (and first with those under 35). And even though Alcatraz didn't perform dramatically better than Terra Nova, it out-rated it just enough to allow Fox to claim its best drama series debut in three years (since Lie to Me). While it's too soon to declare Alcatraz a hit, if the show can hold on to most of its premiere audience in coming weeks, Fox execs will be very happy and may feel confident enough about their Monday night prospects to move forward next fall without a second season of Terra Nova.
Elsewhere Monday, NBC did a good job of bringing out the alter cockers with its two-hour Betty White block. Thanks to a big dose of older viewers, the Peacock's 90th birthday salute to Ms. White drew a whopping 13.9 million viewers from 8 to 9:30 p.m., easily winning the night with NBC's best Monday tune-in since 2008. The special even beat CBS's usually unbeatable Monday night comedies in overall audience. With folks under 50, the results were okay but not nearly as good: The special notched a 2.7 in the demo, behind CBS and Fox but ahead of ABC's struggling The Bachelor (7.3 million, 2.4 demo rating). Disturbingly, many folks stayed put to watch a preview of upcoming prank series Betty White's Off Their Rockers (12.2 million, 2.6 demo rating), a half-hour so inane it made Work It and Rob look inspired. The juvenile nature of the senior-themed pranks seemed to have particular appeal among teenagers: Off Their Rockers was the No. 1 broadcast show at 9:30 with those aged 12 to 17, with teen girls nearly two times as likely to be watching White as The Bachelor. Right now in Burbank, there's a network exec demanding to know why nobody's brought her a reboot of The Golden Girls.