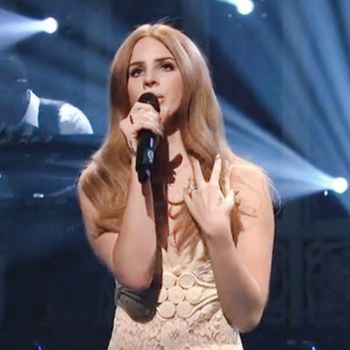 Lana Del Rey on SNL
Photo: NBC
Tomorrow, Lana Del Rey will officially release her major label debut, Born to Die, into the world. You'd be forgiven for any surprise or exhaustion you felt while reading that last sentence; it does feel like certain corners of the Internet have been arguing about her (or her lips) forever. While it's doubtful that Del Rey's album will bring an end to the waves of criticism and backlash-to-the-backlash, it does seem like a good opportunity to assess just how she became so discussed. So herewith, Vulture's timeline of the Great Lana Del Rey Controversy, from her birth as Lizzy Grant to her first secret show to the SNL disaster, all the way up to her actually releasing an album.
June 21, 1986: Elizabeth Grant is born in New York City to parents Patricia, an ad exec, and Rob, a real-estate investor. The family moved to Lake Placid, where Lizzy sang in the church choir.
2001: Troubled Artist cred established: Grant is sent to boarding school in Connecticut after developing a drinking problem. "Her parents saw her going in a bad direction," a childhood friend tells the New York Post.
2004: Thoughtful Artist cred established: Grant enrolls at Fordham University where she studies metaphysics (specifically: "working out whether we could mathematically prove God's existence"). Teaches herself to play guitar and plays open-mike nights in Brooklyn.
October 2008: Lizzy Grant signs with New York indie label 5 Points Records. Releases an EP, Kill Kill, produced by David Kahne (Paul McCartney, Linkin Park), under her real name.
January 2010: Lizzy Grant releases her first full-length album under her own name, but confusingly titles it Lana Del Ray. Her MySpace page describes the music as "glam/surf/Hawaiian."
March 2010: The first stumble: Grant's new manager Ben Mawson pulls Lana Del Ray from iTunes, and all promotional material disappears from the Internet. Grant moves to London.
July 2011: Take two: Lana Del Rey, as she will now be known, signs to Interscope Records, but the deal is not made public. Del Rey releases the purportedly self-made video for "Video Games," which has since been viewed more than 22 million times on YouTube.
August 3, 2011: Pitchfork declares "Video Games" a "Best New Track," comparing Del Rey to Cat Power. The music message boards start to bubble.
September 12, 2011: Lana Del Rey is finally "relevant" enough for noted indie music and meme interpreter Carles, of Hipster Runoff, who begins what will become a bizarrely co-dependent blog relationship. A day later, he posts an old photo of Del Rey in which she has smaller lips.
September 14, 2011: Plays an unannounced show at Brooklyn's Glasslands. Stereogum raves: "She chewed a lot of gum."
September 15, 2011: Backlash, Round 1 Begins: The Village Voice's Maura Johnston wonders, "Is Lana Del Rey The Kreayshawn Of Moody, Electro-Tinged "Indie"?
September 19, 2011: Amy Klein, former bassist for Titus Andronicus, rips Del Rey in since-deleted blog post: "Lana Del Rey is the lie we like to tell ourselves — that America has always been, and will always be, this gorgeous woman who can make all our dreams come true."
October 7, 2011: Del Rey denies having lip-enhancement surgery to Complex: "I haven't had anything done at all. Anyone who's known me will tell you that. I'm sorry, but I was living in a trailer park for a few years. I didn't even have enough money to buy Cocoa Puffs. "
October 11, 2011: She makes a nervous TV debut on Britain's Later with Jools Holland. Hipster Runoff calls it a "MASSIVE DISASTER," but Perez Hilton is "transfixed" by Del Rey's "intoxicating" performance. The backlash-to-the-backlash approaches!
October 28 2011: Billboard confirms the rumored Interscope deal. (""The recent Interscope Records signee's debut album is due in early 2012.")
December 5, 2011: Del Rey makes her official New York debut at the Bowery Ballroom. The New York Times' Jon Caramanica finds her "far more active as an Internet meme than as a human being onstage. It felt like a rehearsal." Meanwhile, the LDR think pieces begin on sites like the Awl.  The meta-narrative backlash-to-the-backlash is in effect.
December 13, 2011: The tiger-filled "Born to Die" video leaks on a strange Russian website. Del Rey's video co-star weighs in on the lip controversy: "They feel pretty fucking real to me. I've kissed a girl with fake lips, and those aren't fake lips in my opinion."
January 14, 2012: Del Rey makes her national television debut on Saturday Night Live. It does not go well.
January 15: NBC anchor Brian Williams leads the post-SNL Backlash Round in an email to Nick Denton: "(Brooklyn hippster [sic] Lana Del Rey had one of the worst outings in SNL history last night — booked on the strength of her TWO SONG web EP, the least-experienced musical guest in the show's history, for starters)." Actress Juliette Lewis bashes Del Rey on Twitter, then walks it back: "Regardless of my own taste LIVE she's a #FreshandYummy songwriter.Period"
January 17: An exhausted, self-backlash-ing Carles launches the Lana Del Report, the "#1 source for #LDR news, memes, buzz, opinions and hate coverage." He also reports the message board controversy that "Video Games" was maybe stolen in part from a 1991 Greek song called "Dromoi Agapisa Pou."
January 17: Daniel Radcliffe, Del Rey's SNL host, defends the performance: "I don't think it. warranted anywhere near that reaction."
January 19: NBC sitcom star Whitney Cummings chimes in: "Whether or not Lana sucked, I think we should be encouraging and patient."
January 24: Born to Die leaks online.
January 25: Nitsuh Abebe, reviewing the album for New York, deems it "a medium-good pop record with a slightly more imaginative, moody milieu than usual, and a bad late-night thriller's view of the world." The Times' Caramanica calls it "a multiple choice test with every answer scanned 'C.'" Stereogum's Tom Breihan has some harsher words: "bad," "really bad," and "just a godawful mess."
January 27: Del Rey announces plans to rerelease the album she recorded as Lizzy Grant, bringing us full circle.
January 31: Born to Die is officially released.